Last year we gave M's preschool friends Snowman Soup as a small Christmas gift. This year we made Christmas Popcorn; it's easy to make, it tastes delicious, and it can be packaged up in any way you like. We decided to make our Christmas Popcorn into cute little snowmen!
Christmas Popcorn
Recipe:
1/2 cup of popcorn kernels (you could also use unbuttered microwave popcorn)
3 oz of white chocolate
sprinkles (red and green)
M&M's (or Smarties for a nut free option)
mini marshmallows
a dash of salt
(yields approx.5 small bags- I made  5 batches)
Pop the kernels using an air popper or pan, then spread the popcorn onto a baking sheet covered in parchment paper. Break up your white chocolate and melt it in  the microwave for 30 seconds. Stir your chocolate and then pop it into the the microwave for an additional 30 seconds. Pour the melted white chocolate over the popcorn and toss well. Add some salt, marshmallows, sprinkles and M&M's.
Now toss all of the ingredients together, and it's ready to eat!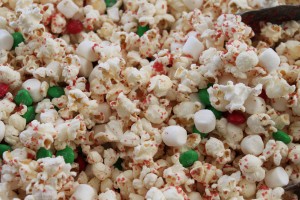 Snowman Christmas Popcorn
If you are planning on giving Christmas Popcorn as a gift, you can package it up in a variety of fun ways: festive tins, boxes, Chinese take-out containers, paper bags, or plastic bags with bag toppers. Because this was going to be a gift for M's classmates, we decided to package them in a fun, snowman theme.
To make our snowman packages we used: Ziplock Sandwich Bags, orange and black paint pens, a silver Sharpie (a white pencil crayon also works), black construction paper or cardstock, scissors, and a stapler.
Originally I had planned to cut and glue construction paper eyes and a nose onto the bags, but they just wouldn't stick! Then I remembered I had purchased some paint pens from Michael's earlier in the year, and decided to just draw the snowman faces onto the bags, which worked really well.
Then, I measured the width of the bags (and the height of the Ziplock seal) and cut out some top hats for our bag toppers.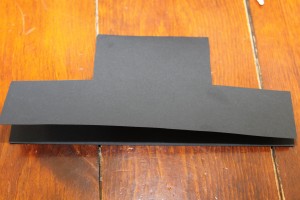 If you want to save paper, you don't have to fold the paper over, you can just make it one sided.
Shovel your popcorn into the snowman bags, seal them up, and staple the top hats to the top of each bag. You can also write a little message onto the top hats using a white pencil crayon or a silver Sharpie.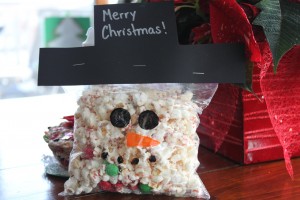 Click the links to see the gift we made for M's teachers this year, and for other holiday gift ideas!
Merry Christmas!!
Share!
Follow!