Have you, or your kids, joined in on the Pokémon Go! craze?! If you are skeptical, I can tell you first hand how fun and interactive it is to play as a family. My kids are super excited to run errands with me, and to explore new places around our city. It's a great way to get some exercise, while also reaping the benefits of being outside by soaking up vitamin D and enjoying the fresh air.
Last week, we were hit with some pretty persistent thunderstorms, so we were pretty much confined to being indoors. Being stuck inside with three active kids, ranging in ages 2-6, can get pretty hairy, so it's always good to have some tricks up your sleeve! I figured since they were so into Pokémon right now, they would really enjoy creating their own Pokéballs; luckily I was right. Not only did they have a fun time creating them, but they've also incorporated them into their daily imaginative play as well.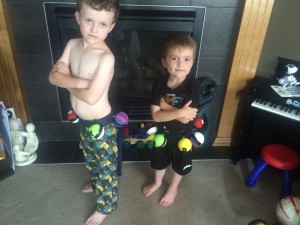 These DIY Pokéballs are cheap and easy to make; they would be perfect for a Pokémon theme party, accessories for a Pokémon trainer Hallowe'en costume, or for every day pretend play.
Here's how to make some Pokéballs of your own!
DIY Pokéballs
Materials: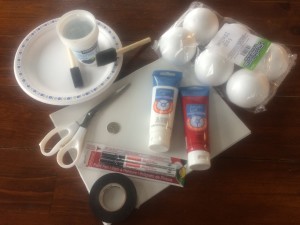 3 or 4″ smooth Styrofoam balls  (I purchased mine from Michael's). You want to make sure you buy the smooth styrofoam balls, rather than the snowball kind, otherwise your Pokéballs will be harder to paint, and they will appear fuzzy.
 Paint brushes (we used foam tipped brushes)
White and red (crimson) acrylic paint for the classic Pokéball. We also used other colours to create a variety of different Pokéballs.
Black electrical tape
Toilet paper rolls, or empty containers that can be used to rest your Pokéballs on while drying
Paper plates, or containers to put your paint on, and to protect your work surface
Sticky-back white foam sheet, or just a regular white foam sheet and hot glue
Black paint markers, or a black Sharpie marker
Scissors
A quarter (for tracing)
Creating Your Pokéballs:
Start by sticking the black electrical type around the centre of your styrofoam balls. I just used the bumpy line already on the balls to help guide my placement.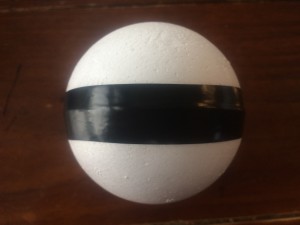 Next, paint the top half of your Pokéballs and rest them on a cut toilet paper roll, or on a container, to dry. This way they won't roll around and ruin your beautiful paint job. Don't worry if you paint over top of the black electrical tape, you can always add more tape on top to create clean, finished lines.
You may wish to add an extra one or two coats of paint, depending on how thick your paint is.
Once the top part of your Pokéballs are dry, you can flip them over and paint the bottoms of them white. You may think this is a redundant step, since the balls are already white,but it makes the Pokéballs have the same consistent texture, and they look a lot more appealing. Again, set them on top of cut toilet paper rolls, or empty containers, to dry.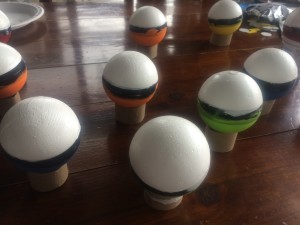 While they are drying, trace your quarter onto the white foam sheet, and cut out the circles to create the buttons for each of the Pokéballs. If your circles are not perfect, don't fret! You can always fix them up later with a black paint pen or Sharpie.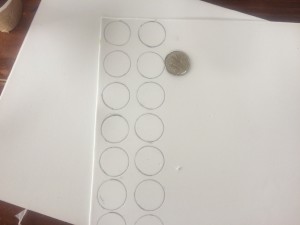 Once the paint has completely dried on your Pokéballs, you can layer another strip of black electrical tape overtop of the previous one, to create a clean, finished look. Then stick (or hot glue) the white foam button onto the place where your tape ends meet.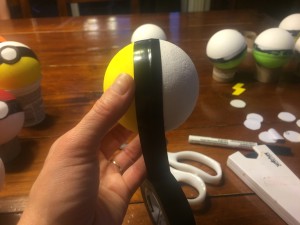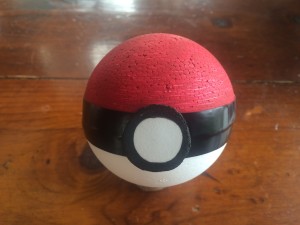 To create a more accurate circle, use your black paint pen or Sharpie to round out the sides of the cut foam circles. Encourage your kids to be creative and to try making different types of Pokéballs. You can Google images of Pokéballs to copy, or they can personalize their own. I purchased some foam, sticky-back letters so my kids could add them to their Pokéballs, and use them to tell them apart.
We cut shapes out of foam sheets to create different symbols, then glued them on with a hot glue-gun.
Extensions:
Creating a Pokéball Belt
If you want to use the Pokéballs as part of a costume, you can create a Pokéball belt using: magnets, metal washers, a long strip of felt, strong glue (such as Epoxy) or a needle and thread, and a hot glue-gun.
Start by cutting out a strip of felt that will fit around your child's waist. The belts will be tied at the back, so make sure to glue/sew the washers in positions so that your kids can easily access them, and so the Pokéballs have enough space between them. The types of washers you use will depend on the strength of your magnets and the weight of your finished Pokéballs.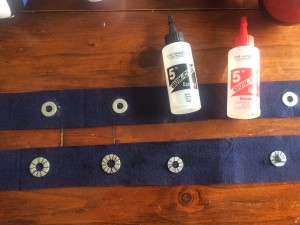 Hot glue a magnet to the back of each of your Pokéballs. Try to make sure they are centred. The type of magnet you use will depend on the weight of your Pokéballs.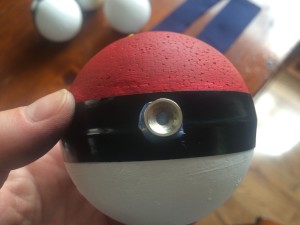 Once the glue is dry, tie the belts around your kids' waists, and snap the Pokéballs in place.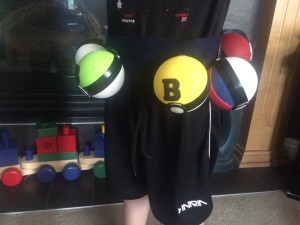 If you have extra felt pieces, you can also make trainer headbands! Haha!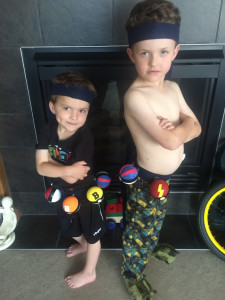 Pokéball Holders
If you're like me, and the thought of loose Pokéballs being strewn all over your house makes your eye twitch a little, you can also make these handy Pokéball holders.
I just wrapped some empty popcan boxes in red and yellow paper, then printed off some pictures for my boys to glue on.
And, just like that, your loose Pokéball problem is solved!
Share!
Follow!