When I was teaching, I used to make cinnamon dough ornaments with my students during the month of December. They smell wonderful, and they are really simple to make. The bugs and I whipped up a few gingerbread men, Christmas trees, and snowflakes to add to our tree this Christmas.
Ingredients/ Materials
1 cup of applesauce
1 1/2 cups of ground cinnamon
1/4 cup of white glue (Elmer's glue)
bowl
rolling pin
parchment paper
straw
cookie cutters
ribbon
embellishments such as buttons, glitter, sequence, paint, etc. (optional)
Making Apple Cinnamon Dough Ornaments
M and B helped measure the applesauce, cinnamon, and white glue and then dumped them into a mixing bowl.
They incorporated the ingredients well by first mixing it with a spatula, and then kneading it with their hands.
The boys flattened the dough and rolled it out with their rolling pin.
Then they chose a cookie cutter to cut out a shape for their ornament.
After cutting out their shapes, I used a straw to make a hole in order to hang the ornaments later. The boys pushed a few buttons into their ornaments to decorate them. Some of the buttons fell off after they were dry, so we had to glue them in place.
The ornaments took 2-3 days to dry completely, but our kitchen smelled amazing! Once they were dry, I looped a ribbon through the holes and we hung them on our tree. They would also make nice gift tags for family and friends.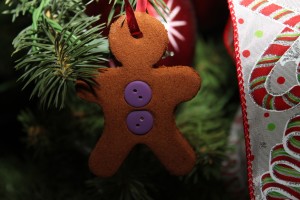 Click the links for more Christmas and winter related activities.
Thanks for stopping by!
Share!
Follow!