Fairy gardens aren't usually something you think of when you're planning a gardening activity for little boys, but trust me, they love them just as much as little girls!
If you're worried that your boy(s) won't want to participate in anything fairy-related, you can always call it something else: enchanted garden, Twiddlebug garden, or Smurf garden are just a few ideas that popped into my head (remember the Twiddlebugs that lived in Ernie's window box on Sesame Street? I used to love those episodes!).
My bugs are pretty oblivious when it comes to gender stereotypes, as most preschoolers are, so creating whimsical fairy gardens enticed their creative imaginations almost immediately. I love that they are still at an age of innocence where they can go from tearing around the house, pretending they are the Hulk or Captain America, to painting fairy houses in pink, purple and glittery gold. I hope they will always have the confidence to do what makes them happy, regardless of the ridiculous gender labelling society loves to perpetuate.
In short, fairy gardens are awesome and a lot of fun to create!
Materials:
Here is a quick word of advice: before spending a bunch of money at a garden centre, or a craft store, take a quick trip to your dollar store. I found most of the items below at Dollarama, and spent around $30. It's definitely worth taking a look!!
large plastic planters
wooden birdhouses
acrylic paint and foam brushes
pebbles
river rocks
gem stones
seashells
beads
wooden embellishments (butterflies and birds)
coloured, glitter gravel
mushroom planter sticks
painted rock ladybugs the boys had made previously
rock garden plants (we purchased these at a garden centre)
potting soil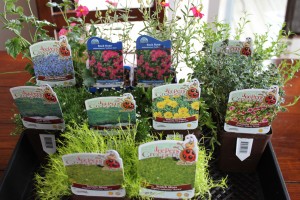 DIY Fairy Gardens
We began this project by transforming the wooden birdhouses into magical fairy houses. I had an assortment of acrylic paints for my bugs to choose from, and once they had decided on their colours they quickly set to work.
It was a lovely, sunny day, so it didn't take long for their fairy houses to dry outside.
Next, we filled each plastic planter with potting soil and the boys began planting the rock garden plants they picked out at the garden centre. This was also a good opportunity to talk about roots and how plants get their nutrients.
Then came the real fun part…decorating the fairy gardens with all of the essential, shimmering and playful details.
My bugs were super proud of their fairy gardens!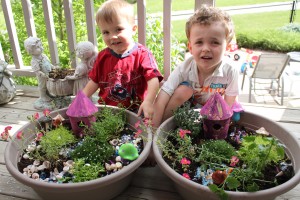 After lunch, they decided to use their magnifying glasses to see if any fairies flew in for a visit…
No such luck. But later on they did discover some sneaky Smurfs frolicking in their gardens!
My bugs had a lot of fun creating their fairy gardens, and I see them being played with a lot during the warm summer months.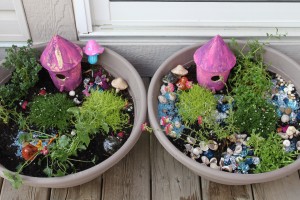 Click on the links to view more spring activities and plants and gardening for kids.
Thanks for stopping by!
Share!
Follow!