Apple Taste Test and Graphing
I took my bugs with me to the grocery store to pick out some apples for our apple taste test. M was surprised with all of the different varieties of apples he had to choose from. I explained to him that apples are in season this time of year, which is why there is such an abundance of them. We ended up purchasing 6 different types of apples:
Granny Smith
Red Delicious
Honey Crisp
Gold Delicious
Pink Lady
Gala
When we got home, I cut up the apples and placed them on paper plates. I wrote the names of each type of apple on the plates with a Sharpie, then printed off a copy of our Apple Taste Test Graph.
After the boys tasted an apple, I helped them fill out the graph by asking them what colour(s) the apple is, whether it tasted sweet or sour, and if they liked it or not.
From our taste test, I learned that M's favourite apple was the sour Granny Smith, while B's favourite apple was the sweet Red Delicious (I usually buy Gala apples, so this was interesting!).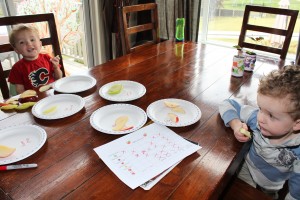 Mini Apple Pies
We had quite a few apples left over from our taste test, and I didn't want them to go to waste, so we decided to bake some simple, mini apple pies!
Materials/ Ingredients:
2 cans of Pillsbury Crescent Rolls
sliced apples
butter
cinnamon
brown sugar
muffin tin
We started by  preheating our oven to 350° and unrolling and tearing apart the crescent roll dough. M pressed one of the dough sections into each of the muffin tin compartments.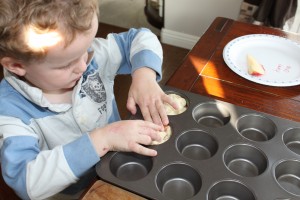 Next, M placed a few pieces of the apple slices, from our apple taste test, on top of the dough. We put a dab of butter and a sprinkle of cinnamon on top of the apples, before covering them up with another piece of crescent roll dough. When they were all assembled, I scored the tops of each unbaked pie with a knife.
Then we threw them into our preheated oven, and waited for about 15-20 min…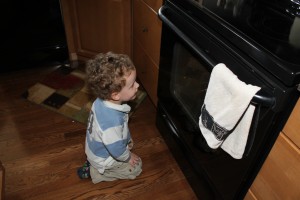 The mini apple pies came out golden, and they smelled **amazing**!
They tasted delicious too!
This was a very simple recipe to get my bugs busy and engaged in the kitchen 🙂
Click the links for more apple themed activities, or for kids in the kitchen recipes.
Thanks for stopping by!
Share!
Follow!