It has been EXTREMELY wet here the past few days, so much so that many areas in southern Alberta, including Calgary, have declared a state of emergency! Luckily, there has been no flooding in our area, but all this rain has definitely made it more challenging to keep my bugs occupied indoors. Today I raided my craft stash and set up a sticky wall for the boys to create a unique art piece together.
Materials
Contact Paper 

craft feathers
buttons
yarn
cotton balls
tissue paper
construction paper
straws
coloured craft sticks
Fine Motor Practice
I wanted M to practice his fine motor skills by experimenting with cutting different materials using his scissors.
He started by cutting along the folds of construction paper strips.
Then he moved on to cutting some plastic straws. M really loved the satisfying 'snip' the straws made, and how they popped apart once they were cut!
He also tried cutting cotton balls, which he discovered was quite difficult…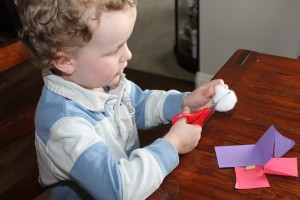 And some yarn: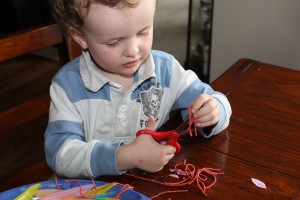 Once he was finished cutting some of the materials, I added them to the rest of the items to be used for the boys' sticky wall art.
Sticky Wall Art
I put some Contact Paper onto our sliding glass door, by folding over the top and bottom edges and sticking them to the surface of the window. Make sure you have the sticky side of the Contact Paper facing out. You can also adhere your Contact Paper to a wall, or a table. I chose to stick ours to the window so M and B could see the natural light shine through the materials (not that we saw much of the sun today!).
I gave the boys the tray of colourful items, and they immediately set to work!
The boys were so engaged and they worked really well together to create a wonderful piece of window art!
When they were done, I noticed B starting to take the materials off and putting them back into the tray. I would have been proud to display their art for a few days, but both boys wanted to dismantle it, so I decided to use this moment to teach a lesson in sorting.
They did a great job putting the items into the appropriate sections, which made cleanup a breeze for me!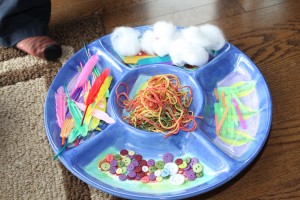 And that's how I kept my bugs busy today 🙂
Click the links for more motor activities, sensory activities, and Contact Paper art projects.
Thanks for stopping by!
Share!
Follow!