The Red Green Show Father's Day Broquet
Chances are if you didn't grow up in Canada in the 90's you never heard of the home improvement parody/ sketch comedy The Red Green Show. To be honest I probably wouldn't have heard of it either if it weren't for my dad. I have to say there were definitely some funny and ridiculous moments on that show, especially the segment titled "Handyman Corner" where Red created crazy contraptions using scraps he'd collected and, of course, duct tape!
Here are a couple clips from The Red Green Show's Handyman Corner:
This broquet basket was really easy to put together. I started by going to Costco and buying a few items in bulk: beef jerky, assorted nuts, and lollipops. I also bought a few bags of ANGIE'S Sweet and Salty Kettle Corn, which is truly magnificant! If you haven't tried this popcorn, you are definitely missing out! The best part of ANGIE'S Kettle Corn, besides how amazing it tastes, is that it contains only four ingredients (all of which can be easily pronounced and don't require a scientist or Wikipedia to figure out what they are): popcorn, sunflower oil, evaporated cane crystals, and sea salt. Trust me, you won't be disappointed!
And what would a Red Green themed gift basket be without duct tape? I found some red and green Duck Tape at Home Depot. I put a roll of red Duck Tape into the broquet basket, and used the red and green Duck Tape on the outside of the baskets to resemble Red's trademarked suspenders (I purchased the baskets from Dollarama).
Next, I Googled "The Red Green Show" and printed off some images and famous quotes from the show. Click on the links for your own printable versions of  Red Green pictures and Red Green Show Quotes. Then I cut out the quotes and pictures, mounted them onto some scrapbook paper, and taped them to the tops of some of the items in the basket. I arranged the gift items using scrunched up newspaper to help elevate them and to keep them in place.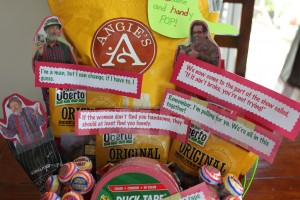 For an additional cheesy pun that fit with the overall theme, I traced a handprint and printed the words "For a handsome and handy POP!" Then I cut out the hand and taped it to the popcorn bag.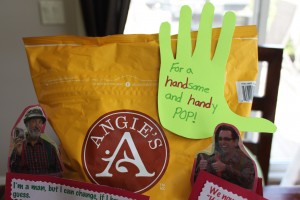 I'm pretty sure my dad and father-in-law will enjoy them!
Due to an awesome stroke of luck (and my brother listening to a classic country radio station… hahaha!) I was able to include tickets to Red Green's How To Do Everything Tour which is coming to Calgary in September!
I plan on making different broquets for my husband and brother-in-laws with "A Game of Thrones" theme. The beer steins I ordered may not be here in time, but I'll be sure to post once they are finished!
Click here for other Father's Day ideas.
Thanks for stopping by, and have a happy Father's Day!!
Share!
Follow!