This was M's first season "playing" soccer. I intentionally have the word 'playing' in quotations because most of the time M was more interested in chasing the other kids around and instigating a game of tag, or ripping out grass and scattering the blades into the air, or pointing out whenever a jet went by or a rainbow appeared in the sky… Although it was funny (and a bit frustrating) to watch at times, M's coaches were always extremely patient and encouraging. As a small gesture of appreciation for their positive demeanours and playful humour, I created soccer themed gift baskets for each of M's coaches to enjoy.
Gift baskets are a very simple, versatile, and economical way to show your gratitude. I was actually able to make up 2 Father's Day Red Green Show themed Gift baskets, 3 Father's Day A Game of Thrones themed broquets (still waiting on the beer steins to arrive…), 4 end-of-the-year teacher appreciation gifts, and 2 gift baskets for his soccer coaches, using items I purchased from Costco in bulk. That's right, 11 gifts in total!
Coach Appreciation Gift (Soccer)
To make these gift baskets I purchased 2 baskets and 2 plastic (freezable) beer steins from Dollarama (each item cost C$2.00). Then I invaded the bulk stash I had previously purchased from Costco, for some other gift baskets I had made up, and added to each coach's basket: 4 individual sized bags of Angie's popcorn, 3 gum packs, 3 small packages of beef jerky, and three packages of Kirkland Signature's nuts (almonds, peanuts and cashews). I arranged the items in the baskets using crumpled newspaper as my base, to help prop the items up, and white tissue paper to cover up the newspaper.
I printed off a few copies of this free soccer ball clip art I found here, then cut them out and taped them around the outside of the baskets.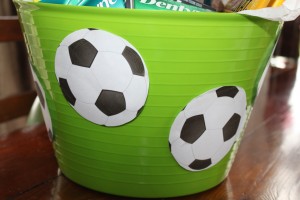 I used one of the cut-out soccer balls to write a quick 'thank you' note to his coaches, and placed it amongst the gift items.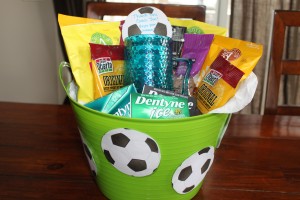 Not bad for a gift that took all of 10min to whip up!
Click the link for more gift ideas!
Thanks for stopping by!
Share!
Follow!