A few weeks ago we received our Painted Lady Butterfly kit.  It's been very interesting and exciting to watch our tiny caterpillars grow, spin their chrysalis', and emerge as beautiful orange and black butterflies! I'm so glad I decided to do this with my boys. They both really enjoyed observing and learning about the life-cycle of a butterfly and, because of this hands-on experience, M has now adopted a few new scientific words into his vocabulary: camouflage, proboscis, and metamorphosis; pretty impressive, not to mention a mouthful, for a three-year-old!
Butterfly Release!
Yesterday, we decided it was time to say good-bye to our butterfly friends, and release them into our garden. It didn't take long for all six of them to flit out of the cage. A few of them lingered around our garden, exploring the flowers, shrubs and trees.
This butterfly landed on a nearby rock, which was the perfect opportunity to show M how a butterfly uses camouflage to keep itself safe.
Handprint Butterflies!
After we released the butterflies into the garden, M created these cute handprint butterflies to use as thank-you cards for his end of the year teacher gifts. I gave M a paper plate with some tempera paint and had him rub his hand in it.
 Then I folded a piece of paper in half, opened it again, and had M press his painted hand down beginning at the centre line, fingers facing out. While the paint was still nice and wet, I quickly folded the paper in half again and pressed down.
 When M opened the paper he was delighted to see that his handprint had created a lovely butterfly shape!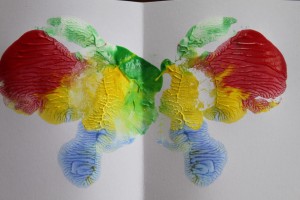 I cut around the handprint butterflies and wrote a quick message on them with a Sharpie, before attaching them to M's (and cousin O's) end of year teacher gifts.
Links to Literature
Here are some of the books we read while learning about our butterflies' life-cycles. The first two information books are great for beginning readers in that they contain simple text, with only a few words on each page, and the pictures are beautiful!
Topic Related Videos
The Magic School Bus, 'Butterfly and the Bog Beast'. This video explains the defence mechanisms caterpillars and butterflies use to keep themselves safe:
A beautiful video of the complete life-cycle of a Monarch butterfly:
Click the link to see some of the other caterpillar and butterfly activities we've done!
Thanks for stopping by!
Share!
Follow!