My kids really enjoy the If You Give a Mouse a Cookie series by Laura Joffe Numeroff. If you haven't introduced these humorous books to your children, or students, I highly recommend that you do. They are light, funny, and follow the pattern of a circle story (a story that ends where it begins) making them perfect for writing examples. I personally enjoy the spontaneous, easily sidetracked, personalities of Numeroff's characters. I'm pretty certain every mom, and teacher, can relate to these characters at some level, I know I do! Especially since becoming a mom, my house seems to be littered with half-finished projects and remnants of previous distractions; kids are masterminds when it comes to creating multiple diversions!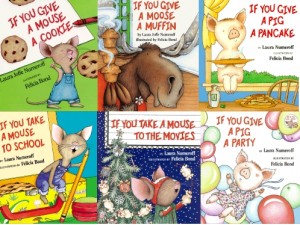 The combination of my love for the series and my collective experiences as a teacher and a mom is what makes Barb Brubaker's poem, "If You Give a Mom a Muffin", so appealing and risible for me. How many times have you woke up with a set plan in mind only to have it unravel in a matter of minutes due to an unexpected event that triggers other multiple detours throughout the day? Even as I was writing this paragraph, I noticed my 19-month-old being uncharacteristically quiet, only to discover he was busy emptying the contents of my wallet and trying to fit my cards through the slots of the register. Then, as I was picking up the cards, my three-year-old came up behind me carrying an egg he had just grabbed from the fridge (that will teach me for attempting to write a blog post during the day)! Yes, life is full of distractions, and they definitely become more frequent and peculiar once you have children!
For Mother's Day this year, I was inspired to create gift baskets around Barb Brubaker's poem, "If You Give a Mom a Muffin". Obviously the theme of the gift baskets had to revolve around muffins in some way. After some playing around, I finally came up with this:
A muffin themed gift basket complete with muffin mix, personalized painted mugs, muffin liners, a muffin tin, tea towels and dishcloths, a gift card to Starbucks, and a mini bottle of Baileys; sounds like the recipe for a perfect coffee break to me!
Dollar Store Finds
I started by purchasing a few key items from Dollaramma:
white mugs

muffin tins
muffin liners
tea towels and dishcloths
large jars for the muffin mix
ribbon
large, pink, plastic buckets to put everything in
Painted Mugs
Then I went to Michael's and purchased some porcelain paint pens (I've heard that oil-based paint pen Sharpies work well too!) and a mini enamel paint set to decorate and personalize the mugs.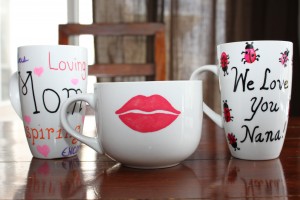 Click on either the link, or on the pictures, to see my previous post on how to make personalized painted mugs for Mother's Day! I made three different mugs:
Muffin Mix
I used the All-Star Muffin Mix recipe from the Taste of Home website. I've tested the recipe multiple times and the muffins always come out delicious! There are many ways to prepare these muffins (with chocolate chips, blueberries, bananas, carrots, etc.) but I decided on adding the chocolate chips. The original recipe yields 4 batches (48 muffins), but I used half of that for each gift basket so all of the ingredients would fit nicely into one canister. I also added a few drops of red food colouring to the sugar to add an extra pop of pink! FYI when you add the wet ingredients to the dry ingredients the sugar will dissolve, leaving you with a pink-tinged batter, and therefore pinkish-looking muffins.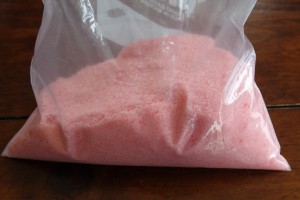 I layered the ingredients by putting the pink sugar in first, followed by the flour, baking powder, salt, cinnamon, and nutmeg, before topping it off with the chocolate chips. I made sure to pack the chocolate chips down, so I could fill them all the way to the top!
Then I wrapped some pink ribbon around the lid, and around the middle, of each of the canisters.
I printed the baking instructions onto the top of each canister using a black paint pen (a black Sharpie would work also). If the moms want to reuse the canisters for something else once the muffin mix is gone, they can simply wipe the top of the lid clean with fingernail polish remover or rubbing alcohol.
From there, it was just a matter of assembling the gift baskets and creating a copy of Barb Brubaker's poem, If You Give a Mom a Muffin, to add as the final touch. I printed it off, cut around the poem with decorative scissors to create a cloud-like edge, then glued the poem onto pink scrapbooking paper, and used a flower stamp to go around the border of the poem.
I'm quite happy with how the "If You Give a Mom a Muffin" Mother's Day Baskets turned out, and I'm pretty sure the moms I'm gifting them to will put the items to good use!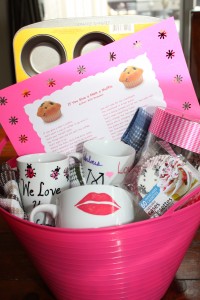 I hope all of the moms out there have a much-deserved, extra happy Mother's Day!
Click the link to see more DIY Mother's Day gift ideas.
Thanks for stopping by! 🙂
Share!
Follow!