A couple of days ago my bugs made some LOVEly heart paintings. M used a heart shaped cookie cutter to stamp his paint onto black scrapbook paper, while B finger painted over top of a heart cutout I had taped to the centre of his black paper.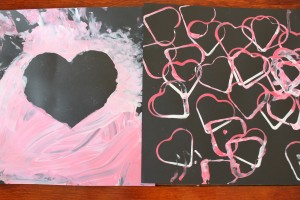 Materials:
red and white non-toxic tempera
black scrapbook paper
a heart shaped  cookie cutter (for M)
a couple of paper plates to mix the paint on
a heart cutout shape (for B)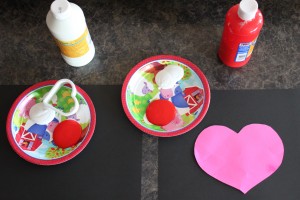 After placing the materials in front of the boys, I demonstrated to each of them what they were supposed to do, and they got right to it!
I think they both turned out beautiful but, most importantly, the boys had a fun time making them.  When B was finished finger painting over the heart cutout, I peeled the cutout off of the black paper to reveal the heart print beneath.
I added a border to each of my bugs' heart paintings, using some decorative Valentine's tape, and displayed them amongst our Valentine's Watercolour paintings and tape art.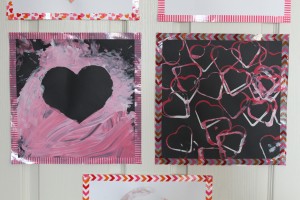 Have a happy Valentine's Day!
Share!
Follow!