Another 2 weeks has passed and Bob, our Elf on the Shelf, has been busy causing mischief and bringing smiles to my bugs' faces! Each morning, M and B are so excited to see what Bob has been up to while they've been sleeping. I am actually quite surprised with how observant B is for a one-year-old. When he spots Bob he gets a HUGE grin on his face and starts pointing emphatically at him. It's so cute! And when M wakes up the first words out of his mouth are, "what's Bob up to mommy?" I'm really glad we started this tradition. It's been a lot of fun! If you missed Bob's previous antics you can check them out here. This is what he's been up to in the last 2 weeks:
Tangled in Ribbon
While wrapping up some boxes as a centrepiece for our table, Bob managed to get himself all tangled up in some ribbon. For some fun activities related to wrapping, click here!
Hot Air Balloon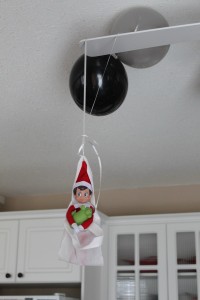 The day before we went to my niece's 1st birthday. The boys took home some balloons and a little bag filled with party favours. I put Bob inside of the bag and hung the balloons from the ceiling fan (my dad added the toy bath frog, which the boys thought was a hilarious touch!)
Hiding Amongst B's Stuffies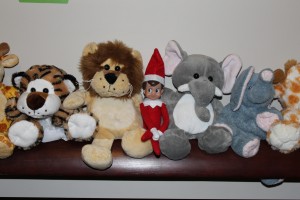 Eating Gingerbread Man Cookies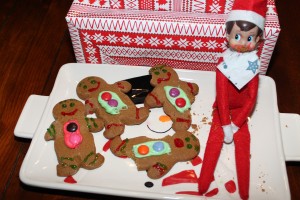 Poor gingerbread men… the ones with missing limbs don't look very impressed!
Mimicking Santa
M brought home a Santa advent calendar from playschool. I used a cottonball to make a beard for Bob, then put him beside Santa on our fridge using a couple of sturdy magnets.
Playing Hungry, Hungry Hippos with M's Toys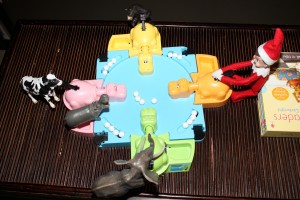 Cruising in the Cozy Coupe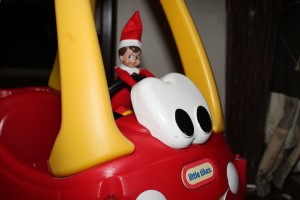 Scrounging Candy from the Pantry
Making a Snow Angel in Green Candy sparkles
Bob brought the boys a Gingerbread Village kit to make too!
Building a Popsicle Stick Puzzle
Bob made M some puzzles out of popsicle sticks. In order to build the puzzles, M had to use the letters on the back of each stick to spell words, such as: his name, snowman, and putting letters of the alphabet in order. For more info. about spelling with popsicle puzzles, click here!
On Top of the Tree
We were late getting our tree up this year because we had some furniture being reupholstered, so I thought it might be a nice surprise if the boys woke up to a decorated tree with Bob sitting at the top. They were thrilled! M came down the stairs and exclaimed excitedly, "Mommy! Look what Bob do!" and B kept pointing at it and smiling. Yay! Parent win!
Helping Out by Folding Laundry
Oh, how I wish this were true!
Watching Santa's Reindeer on the Reindeer Cam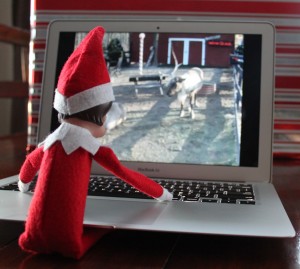 You can check on Santa's reindeer in the North Pole by clicking here.At certain times of the day you can even catch Santa feeding the reindeer. You can also sign up to put your chid's name on the 'nice list' to be displayed on the website.
Snowball Fight with Marshmallows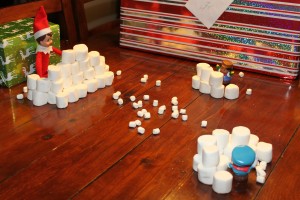 And that's what Bob's been up to these past two weeks!
Share!
Follow!