B and I had a fun time creating these Heartbreaker Treat Pouches. They make a cute Valentine's Day gift, and B was able to practise his fine motor skills by weaving ribbon through the holes of the heart pouches.
Materials:
craft paper
scissors
single hole punch
ribbon
treats to fill your heart pouch: tattoos, stickers, candies
Valentine's Day Heartbreaker Treat Pouches:
This was a simple and fun Valentine's Day craft to make.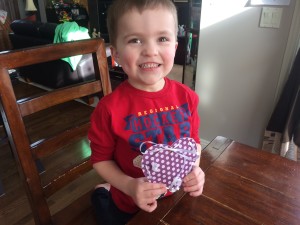 Click here for more Valentine's Day crafts and ideas.
Thanks for stopping by!
Share!
Follow!