New Year's Tree
As I was taking down our Christmas decorations, I decided to keep our tree up a bit longer and have the bugs decorate it as a New Year's tree. They stuffed the branches with noise makers, New Year's Eve crowns and hats, feather boas, balloons filled with mini prizes, and all of the lovely Christmas cards we received from our friends and family.
New Year's Eve Memory Scavenger Hunt
To help the kids reflect on all of the fun things we did in 2014, I printed off pictures of some of our favourite family memories and taped them around the house for the kids to find. It was really heartwarming to hear my bugs reminisce about all of the good times we shared as a family in the past year.
After my boys had collected all of the pictures, they added them to our New Year's tree.
Count Down, Balloon Stomp and New Year's Toast
My sister and brother-in-law, along with my 2 nephews, came over to ring in the new year with us. We had a nice dinner, complete with a small sundae bar. Later in the evening, we grabbed the hats and noise makers from the New Year's tree and put on a mock New Year's countdown for the kids to watch. 
Afterwards, the boys took the balloons from the New Year's tree and popped them, by stomping, jumping and sitting, in order to retrieve small prizes of stickers and tattoos.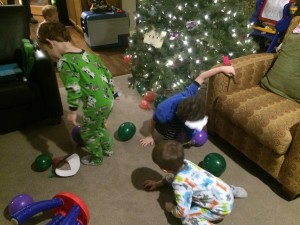 Then we toasted to making new memories with our family in 2015! The bugs drank form champagne flutes (dollar store) filled with sparkling lemonade.
Click on the link to see more family-friendly ways to ring in the new year!
Best wishes for 2015!
Share!
Follow!