'
Twas the night before Christmas, when all through the house
not a creature was stirring, not even a mouse.
Today I shared the timeless holiday classic 'Twas The Night Before Christmas, by Clement Clarke Moore, with my bugs. This picture book is great for shared reading.  I intentionally leave out some of the rhyming words and have my  boys guess them by utilizing key reading strategies such as : does the word they chose sound right, does it have the same initial letter sound as the mystery word, and does it make sense. I also encourage my boys to use picture cues to help them decode the mystery word(s).
After reading the picture book a couple of times, I thought it would be fun for the boys to make some chocolate mice to go along with the first line of the poem.
Chocolate Mice
You can find the recipe we used to make our chocolate mice here. There is also a detailed video available  on how to make them. The only change we made to the recipe is using mini red and green M&Ms for the eyes, and red rope licorice for the tails.
After the boys made their chocolate mice, I decided to make a new batch to include in  our 'Twas the night before Christmas gift baskets.
I'm not a huge fan of mice, but these ones are pretty cute, not to mention yummy!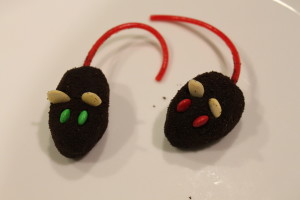 Thanks for stopping by!
Click on the links for more Christmas and winter related activities.
Happy Holidays!!
Share!
Follow!