My bugs love listening to stories and engaging in pretend play, so when I came across the idea of story stones on Pinterest I was inspired to make some of our own. Being avid rock collectors, my boys already had a pile of stones stashed under the deck ready to be washed and used. If you don't have any smooth stones on hand, you can always purchase some from the dollar store. I'm not very good at drawing, so instead of painting directly onto the stones, I cheated and resorted to using stickers and Mod Podge!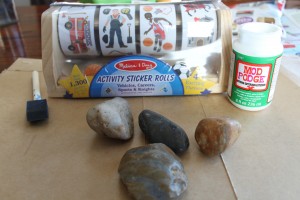 After thoroughly washing and drying the rocks, my bugs chose the stickers they wanted adhered to the rocks. I positioned the stickers on, trying my best to get rid of any air bubbles, and then brushed a thin layer of Mod Podge over top. Once they had dried completely, I added a second thin coat to each one.
I placed the story stones in a bag and left them in the living room for the kids to discover the next morning.
My bugs were excited to explore all of the different story stones, and it wasn't long before they were using them in their pretend play.
Story stones work great as writing prompts, verbal storytelling, and inspiring imaginative, sensory play. You can also use them in sorting activities, art projects, and as a fun camping activity!
The boys especially like to pick out stones and have me formulate a verbal story around them. We all have quite a few laughs at the quirky tales that unfold based on the random characters, settings, and objects they choose! My goal is to model simple storytelling for my bugs, so they will eventually understand and implement the basic components of a story on their own.
Click on the links for more rock projects and literacy activities.
Thanks for stopping by!
Share!
Follow!