Today we celebrated cousin A and cousin L's birthdays! The two cousins are one year and a day apart, so their parents decided to combine their birthdays and have a May The 4th Be With You party. My bugs had a blast! They are REALLY into Star Wars right now, so this party was a big hit with them!
Decorations
My brother-in-law was able to borrow these fabulous, hand-drawn posters from a co-worker of his:
Entertainment and Games
Bouncy House
Droid, Droid, Clone!
This game is played the same as Duck, Duck, Goose!
Pin the Lightsaber on Darth Vader
Jedi Training With Darth Vader
Each of the kids were given a Jedi robe (NO SEWING REQUIRED! Made from brown fabric, with a hole for the head, and a white piece of fabric for the tie) and a homemade lightsaber (made from a pool noodle, cut in half, plus duct tape and electrical tape).
My brother, who is a great sport, offered to dress up as Darth Vader and teach the kids a few Jedi moves. Unfortunately, this transformed into a game of 'attack Darth Vader' within a matter of seconds! Hahahaha!
Death Star Piñata
My cousin Greg made this awesome Death Star piñata, which the kids beat relentlessly with their lightsabers until it rained candy!
Lightsaber Cupcakes
My sister made the cupcakes using store-bought Star Wars sugar candies, and pretzels dipped in melted chocolate.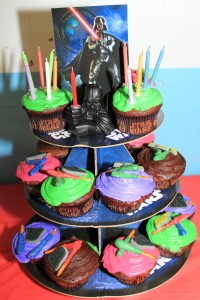 I think it's safe to say the kids really enjoyed them :).
The birthday boys!
Everyone had a great time. In fact, my bugs are still battling with their lightsabers as I type this!
It was a fun way to spend yet another SNOWY day in Calgary! Thanks for inviting us!
Click on the link to see more of our birthday theme parties.
Thanks for stopping by!
Share!
Follow!