Mother's Day is this Sunday; although flowers make a lovely gift, why not give mom what she really wants? Wine/ cocktails and chocolate! I took the traditional flower theme of Mother's Day and gave it a modern twist by disguising the premixed cocktail bottles as radiant sunflowers…. sneaky right?
Materials:
ceramic pot (the base should be big enough to hold your mom's favourite bottle of wine/spirits. I bought my pots at Dollarama)
a bottle of mom's favourite wine/ spirits
a variety of candy and chocolate
embellishments (I used 3-D paper flower and bee stickers from Michael's)
Martha Stewart's Multi-Surface Acrylic Craft Paint (I used this only for Nana's gift, so the kids could create sunflower handprints on the ceramic pot)
scrapbook paper (for the leaves)
flower napkin rings (I found sunflower napkin rings at Dollarama. You could also cut the stem off of a fake flower and use a hot glue gun to glue the flower head to the bottle)
DIY Mother's Day Gift: Happy Hour Flowers
Place the bottle of wine/spirits into the centre of the ceramic pot. Cut out leaf shapes from scrapbook paper and tape them to the back of the bottle. Then slip the flower napkin ring over the neck of the bottle and nestle the chocolates and candy in the area surrounding the bottle. Lastly, decorate the flower pot with the 3-D stickers, or have your little ones create handprint sunflowers with Martha Stewart's Multi-Surface Acrylic Craft Paint.
Handprint Sunflower Pot
I painted my bugs' hands with Martha Stewart's Multi-Surface Satin Acrylic Paint in Chamomile, then had them make prints in a circular pattern (overlapping the palm in the centre). Each of my bugs made their own handprint sunflowers for their Nana, one on each side of the pot. I let the paint dry for about an hour before painting the centre of the sunflower with Martha Stewart's Multi-Surface Glitter Paint in Florentine Gold.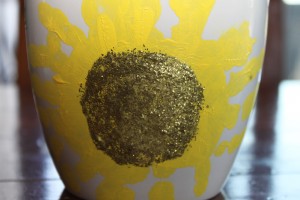 I think the happy hour flower pots turned out pretty great, and I'm pretty sure the incognito 'flowers' will help lift the spirits of the special moms in my life ;).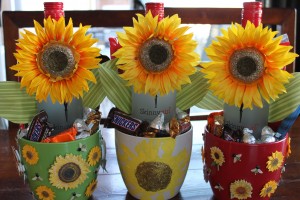 Cheers to all the fabulous mommas out there!
Click the link for more Mother's Day gift ideas.
Happy Mother's Day!
Share!
Follow!