I am ridiculously late in posting this for St. Patrick's Day, but I suppose it doesn't have to be St. Patrick's Day in order to enjoy these rainbow snacks and healthy, green shamrock smoothie. What better way to brighten up a drab day than by jazzing up meal time with some vibrant colours?
Rainbow Toast
I've made rainbow toast with my bugs before. It's super simple to make; all you need is milk, food colouring, bread, new paintbrushes, and a toaster.
Rainbow Pancakes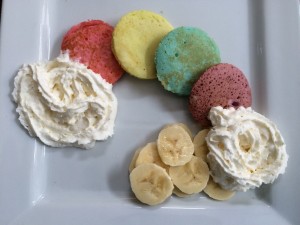 For this colourful breakfast, I separated my pancake batter into 4 bowls and added a different colour of food colouring to each one. After cooking the pancakes, I used a round cookie-cutter to create lovely round circles, and spread them across the plate. Then I added whipped cream clouds and banana coins.
Healthy Rainbow Lunch
My bugs had been busy learning about rainbows the last few days, so I cut up some delicious, fruit, veggies, and cheese to create a healthy rainbow lunch platter for them.
Red- Strawberries
Orange- Cheddar Cheese
Yellow: Pineapples
Green: Cucumber
Blue: Blueberries
Purple: Grapes
The 'clouds' are almond butter and honey sandwiches which I cut using a round cookie cutter, and the bananas are supposed to represent gold coins. To make this lunch more hands-on and educational, you could get your kids to assemble the rainbow platter themselves according to the colour order of the rainbow (ROYGBIV).
Healthy Shamrock Smoothies
To make these shakes, I gave my bugs some sliced mangos, peaches, bananas and spinach to add to our blender:
Then I poured in some mango fruit juice and coconut water. The spinach turned the smoothies a bright green colour after blending!
Click on the links to see more St. Patrick's Day ideas, rainbow inspired activities, and having fun with food.
Thanks for stopping by!
Share!
Follow!