Leprechaun Tricks
My bugs first discovered we had a leprechaun on the loose when they bounded down the stairs in the morning and found this:
A note scrawled on the message board with a shamrock, and tiny, green footprints trailing across the floor.
The footprints led to this:
A sneaky leprechaun had painted a rainbow on our sliding door in the kitchen, and left behind some chocolate coin treats!
My bugs were pretty excited!
The next day, the boys went to the washroom to wash their hands after lunch and they were shocked to find this:
Somehow that sly leprechaun had turned the water green!!
Neither of them wanted to put their hands under the green water, so they waited until it ran clear again, hahaha!
Leprechaun Trap
After learning a few things about leprechauns from these books we borrowed from the library:
 the boys decided it would be a good idea to try to catch this leprechaun once and for all! (Click here to see the leprechaun trap M made last year.)
We started by researching leprechaun traps on the internet. M and B decided they wanted to make a leprechaun trap with a trap door. The boys made their trap out of a tall box, green construction paper, coloured foam paper (for the rainbow), cotton balls (for clouds), shamrock stickers, and colourful buttons. M also thought it would be cool to incorporate Lego into the building of the leprechaun trap, so we made some Lego stairs for the leprechaun to climb up to the top.
The boys were convinced their trap would definitely catch that rogue leprechaun!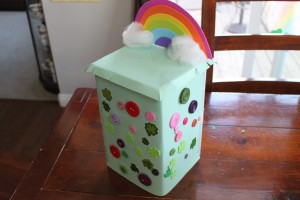 Unfortunately, the next morning the only thing they ended up catching was Michelangelo, the Ninja Turtle!
I love how B looks so bewildered in the second picture! Hahaha!
More Leprechaun Tricks
One morning, after eating breakfast, M and B discovered that a leprechaun had left some treats in their shoes! Makes sense because leprechauns are cobblers right?! Here they are enjoying their treats:
And then, before bed, they found that their room had been plastered with shamrocks!
Finally, on the morning of St. Patrick's Day, they woke up to rainbow streamers strung all through the house!
And there were some treats and tattoos on the table for them to enjoy as a parting gift :).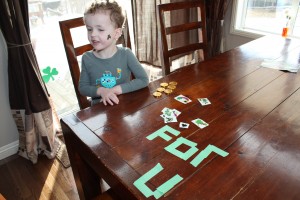 Click on the link for more St.Patrick's Day fun!
Happy St. Paddy's Day!!
Share!
Follow!