Thanks to this year's winter Olympics being held in Sochi, my bugs have been interested in learning more about Russia. It all started one morning when M asked me casually, "mommy, can we drive to Russia today?" which led me to show him where Russia is located in relation to us on the world map. When I pointed out that our countries are separated by an ocean and therefore we'd have to fly on a plane to get there, he responded by saying,"No, we could drive there if we had a submarine car." Haha! Kids say the most witty and unexpected things sometimes!
We inherited a wonderful set of Russian Matryoshka Dolls from my mother-in-law, which we display proudly in our curio. I decided to take them out the other day for my bugs to explore. It turns out Matryoshka Dolls are an excellent teaching/learning tool.
My bugs learned mathematical concepts such as ordering and sequencing by size, vocabulary (big small, biggest, largest, smaller, smallest, tiny, tiniest, etc.), comparing and contrasting, fine-motor control, and an appreciation of Russian art and culture.
Learning with Russian Matryoshka Dolls
Math Concepts
As my bugs played with the nesting dolls, they were encouraged to put them in order from biggest to smallest, and vice-versa. I also frequently asked them questions so they would compare and contrast the size of the dolls using specific vocabulary, such as: Which one is bigger? Which one is the smallest? Is this doll larger or smaller than the other doll? etc.
Fine-Motor Skills
Some of the dolls were a bit tricky to pull apart and put back together. The smaller the pieces, the more challenging it was for their little fingers to grasp and manipulate!
Art
My bugs made their own paper matryoshka dolls, thanks to the great template we found at Activity Village!
I gave them the option of using crayons, pastels, or watercolours, and they both chose to use watercolours.
The boys enjoyed playing with the dolls once they were assembled. Each doll fits inside a bigger one, just like a real matryoshka doll!
Picture Books
I explained to my bugs a bit of the history behind matryoshka dolls. The name matryoshka means 'little mother'. The dolls inside are the mother's children, and each one is usually depicted holding a different object related to peasant life (wheat, a basket, flowers, etc.) ending with a tiny, swaddled baby.
We found a couple of great picture books that featured matryoshka dolls at our public library: The Littlest Matryoshka, by Corine Demas Bliss and Katherine Brown, and Sasha's Matrioshka Dolls, by Jana Dillon.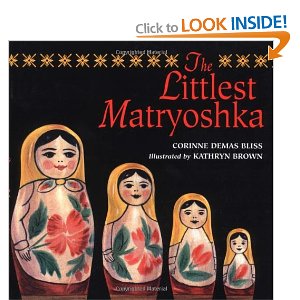 The Littlest Matryoshka is a cute story about Nina, the smallest of the Matryoshka dolls, who falls off a toyshop's shelf and into the snow. Nina encounters many adventures, until she is finally reunited back with her sisters.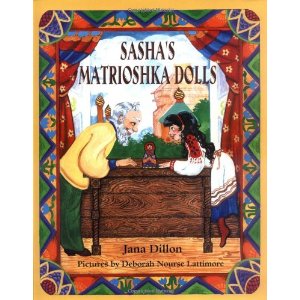 Sasha's Matrioshka Dolls is a lovely fictional story about the origin of matryoshka dolls. Sasha's grandfather is a box maker. When the mice tear apart Sasha's rag doll, her grandfather carves her a wooden doll, which Sasha paints and names Matrioshka, 'little mother'. Her grandfather makes Sasha a box in the same shape, which Sasha elaborately paints, to keep her doll inside, but it's stolen by the mice. Sasha's grandfather makes a larger doll box to hold the other two dolls inside, so the mice can't carry it off, but this time the dolls are stolen by rats. The events continue to unfold, with larger animals making off with the subsequently larger dolls, until Sasha and her grandfather have made seven beautiful nesting dolls that are too large and heavy to be carried off by any animals. Soon all the villagers want of set of nesting dolls of their own, drawing a lot of business to Sasha and her grandfather's shop.
My bugs had a lot of fun learning and playing with Russian Matryoshka dolls! It's hard to believe the Sochi Olympics come to a close tomorrow. As always, the Olympics have proven to be not only inspirational but educational as well!
GO CANADA GO!!!
Thanks for stopping by!!
Share!
Follow!