Having a New Year's Eve party with kids can be a lot of fun for everyone, even the adults! We often get together with my siblings and their families to play boardgames, so for New Year's Eve we just added a few festive embellishments to make the night extra fun and memorable for the kids.
New Year's Eve Family Party Ideas
Decorating Crowns
I purchased some poster board, rhinestone stickers, decorative tape, and foam stickers from the dollar store for the kids (and adults) to decorate their New Year's crowns with. I chose materials that were self-adhesive in order to cut down on the mess. I drew a crown shape onto the poster board, cut it out, and used it as my template for the others. Make sure you make the template long enough (you can always cut off any excess if there is too much overlap).
Materials:
White Poster Board
Rhinestone Stickers
Foam Stickers
Decorative Tape
Pencil
Scissors
Clear Tape (double-sided tape would work great, but I didn't have any)
Here's how some of the crowns turned out:
Finger Food/ Appetizers
We all contributed by bringing some delicious, kid friendly appetizers. There was a lot of food!
Good Luck Coin Cake
After learning about the Greek tradition to serve Vasilopita on New Year's Day, I was inspired to do something similar for our New Year's Eve party. Vasilopita is a cake, or bread,  that contains a hidden coin, which supposedly brings good luck to the receiver for the new year. If you are looking for a recipe to make a traditional Vailopita, this one looks pretty simple to follow. I totally cheated and just made a regular chocolate cake (from the box), wrapped a sterilized penny (a penny to symbolize good luck) in some tinfoil, and baked it. After it had cooled, I spread chocolate icing on the cake and the kids decorated it with Smarties and rainbow sprinkles.
Pass the Present Game
This game is played like hot potato, only you pass a present that has different gifts individually wrapped inside. When the music stops, the person holding the package gets to unwrap one layer of the present to reveal the gift inside. The trick to this game is to make sure to stop the music so each child receives a gift in the end! I just purchased some items from the dollar store: tattoos, squishy dinosaurs and spiders, suckers, chocolate coins, etc.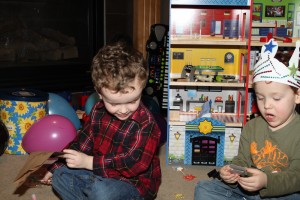 Glow-Stick Dance Party!
This is exactly what it sounds like; give the kids some glow-sticks (we even put some inside of the balloons for them to toss around), turn off the lights, crank up the music, and let them dance off their sugar high so they're nice and tired when it's time for bed! I didn't get any good pics of the glow-stick dance party because, as you can see, I'm not a very good photographer… one of my New Year's resolutions ought be how to navigate the proper settings on my camera!
Personalized Champagne Flutes
I purchased some cheap champagne flutes from the dollar store but rather than supplying them as a take-home gift like I did last year, I decided to keep them to use again for our next celebration. I supplied everyone with some paint pens to decorate their glasses with, and each guest wrote/drew what they would like to toast to for 2014. The paint washed right off in the dishwasher, so they are ready to redecorate on our next occasion!
New Year's Toast and Noise Makers!
We ended up doing our faux New Year's countdown at 10:00 pm with the kids, so we could ship them off to bed sooner and commence with our adult party! I bought some plastic New Year's champagne flutes from the dollar store, and filled them with iced-tea for the kids to toast with. I also had a bunch of noise makers to help get the kiddos hyped and excited about ringing in the new year!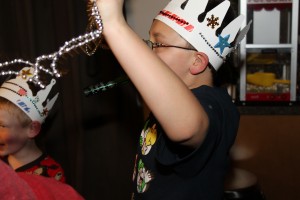 HAPPY NEW YEAR!!!
Wishing you lots of laughter, good health and exciting experiences for 2014!!
Share!
Follow!