Ever since I introduced M to the story of The Gingerbread Man last winter, he has listened to it over and over on his iPad, retold the story in his own words, and recited it by memory to his little brother B. This year, I decided to create some felt board characters for M and B to retell and act out the story of The Gingerbread Man with. The felt characters turned out to be a real hit!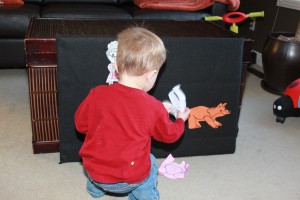 As I read the story The Gingerbread Man aloud (I chose to read Beatrice Rodriguez's version),
the boys acted out the story using the felt board characters. Soon after, they were retelling and acting out the story all on their own!
As you can see, I'm not an artist by any means, but my bugs didn't seem to mind! I used the templates from Making Learning Fun as a guide, and drew them free hand onto felt pieces using paint markers (you could also use felt markers).
Click the links for more felt board fun , picture book activities, and other Gingerbread Man activities.
Thanks for stopping by!
Share!
Follow!