I was inspired to make these Christmas silhouette pictures with my bugs when I came across some festive Washi Tape on a recent trip to Michael's. The boys made snowman silhouettes, while I made silhouettes of an owl, a deer, a pine tree, and a gingerbread man as part of the holiday decor for the main floor bathroom.
Washi Tape Christmas Silhouettes
Snowmen
I printed off a couple of snowmen silhouettes I found here, onto white cardstock. Then I cut out the snowmen and gave the boys 2 different patterns of Washi Tape to stick onto their silhouettes.
When they were finished, I snipped off any excess Washi Tape from the edges, and the boys mounted their snowman silhouettes onto a piece of cardstock (M's is on the left and B's is on the right).
So simple, yet I love the effect and contrast of colours! These would look lovely in a frame :).
Holiday Decor
The boys' Washi Tape Snowmen turned out so nice, I decided to make some holiday inspired Washi Tape art for the bathroom as well.
Materials:
Festive Washi Tape
Acrylic paint (I used tan)
Foam Brush
4 small canvases from the dollar store
Thin cardboard (I used cereal boxes)
Spray adhesive
Scissors
I printed off a copy of a deer, an owl, a gingerbread man and a Christmas tree, and used them as templates to trace onto my cardboard pieces. Next, I cut out the shapes from the cardboard (I cut the gingerbread man and the Christmas tree to a slightly smaller scale so they would be roughly the same size as the deer and owl) and began sticking on the Washi Tape, alternating between the two patterns. I made sure to fold the tape over the edges of the cardboard cutouts so no cardboard would show through on the sides. Then I painted the small canvases with acrylic paint. Once the canvases were dry, I sprayed the back of each silhouette with spray adhesive and stuck them on (I flipped the canvases over and pressed down on each one just to make sure there was a strong bond between the silhouette and the canvas).
 The end result is a festive art arrangement :).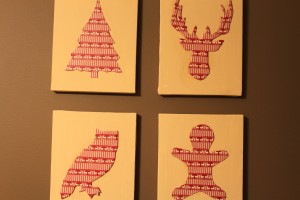 Washi tape is so easy to use, and it comes in a variety of gorgeous colours and patterns, which makes it perfect for creating a multitude of unique projects!
Click the links for more Christmas and Winter Activities.
Thanks for stopping by!
Share!
Follow!