Lois Ehlert, Snowballs
We are big fans of Lois Ehlert in our house, and her book Snowballs is definitely one of our favourites! Ehlert puts a creative twist on snowman building, by getting rid of the usual carrots and coal and replacing them with a plethora of innovative options.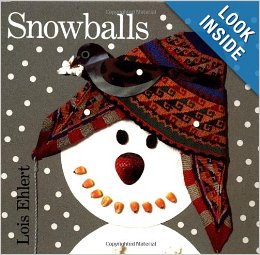 Creating Eccentric Snowmen
We decided to take a lesson from Ehlert and gather some materials we had around the house to create our own craft snowmen. We ended up with an eclectic collection ranging from dried  food in the pantry to colourful feathers from our craft drawer. We organized our items into the compartments of a muffin tin so they would be easily accessible.
 Materials:
A variety of materials from around the house
Paper plates
Tape
Unscented shaving cream
Elmer's white glue
After gathering our items, I taped the opposite sides of 2 paper plates together to form the boys' snowmen.
Next, I mixed equal parts shaving cream and Elmer's white glue on a baking sheet to create our fluffy snow. My bugs shovelled the 'snow' onto their plates and smoothed it out towards the edges, making sure to cover both of the plates. They were a bit unsure at first, but they soon got into it! The texture of the shaving cream and glue is quite wonderful and very fun to squish between your fingers!
Once their plates were covered with the puffy, white mixture, the boys began creating their snowmen by selecting materials from the muffin tin and pressing them lightly into the 'snow'.
This project can be pretty messy, but the boys loved it! What I enjoyed most was the variety of textures and materials my bugs were able to explore, and how they used their imaginations to turn unexpected objects into creative snowman features.
The shaving cream mixture is perfect for resembling snow because it stays puffy and light even after it dries.
What sort of items would you use to create your snowman/lady/child/animal? The creative possibilities are endless!
Click the links for more winter activities and winter picture book ideas.
Thanks for stopping by!
Share!
Follow!