Jan Brett's Gingerbread Baby is a great twist on the original classic fairy tale. What I like most about this story, besides the beautiful illustrations, is that in the end the Gingerbread Baby gets to live in a cozy gingerbread house, rather than being gobbled up by a fox!
If you are unable to get your hands on a copy of Gingerbread Baby, but would still like to read/hear the book, you can watch and follow along as the story is read aloud:
The Gingerbread Baby by Jan Brett from Joanne Kaminski on Vimeo.
Simple and Sweet Gingerbread Houses
After reading the story aloud to M and B, we decided to make some simple gingerbread houses. Okay, so they actually aren't made of gingerbread at all, but graham crackers are just as tasty and they are readily available.
Ingredients:
Graham crackers (3 for each house)
Icing
An assortment of candy (we used candy canes, Skittles, butterscotch chips, mini marshmallows, Hershey Kisses, chocolate chips, candy sticks, sprinkles and Life Savers)
Teddy Grahams (to represent the Gingerbread Baby)
Small piece of cardboard
Tin foil
Assembling the Gingerbread Houses
I started by creating a work surface for the boys to build their houses on, by cutting up some cardboard into squares and wrapping them in tinfoil.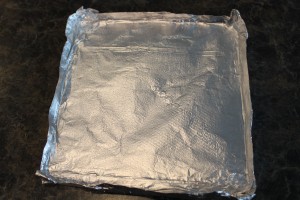 Then I separated our ingredients into the compartments of a muffin tin to make them easier for the boys to grab.
I helped my bugs build their gingerbread houses by putting one graham cracker on the bottom and steepling the other two against one another while 'glueing' the edges together with white icing.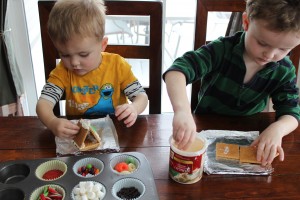 Then the boys got to work decorating their houses:
The finishing touch was adding the Gingerbread Baby inside of the house!
The simple design of these gingerbread houses make them sturdy (you don't have to worry about them collapsing while decorating them) and the perfect size for little ones to enjoy as a special treat.
 Click the link for a fun Gingerbread Baby literacy activity and for other winter picture book activities.
Thanks for stopping by!
Share!
Follow!