M and I made these cute Kool-Aid Play Dough Monsters, as gifts for his friends at preschool, to help celebrate him turning 4! Usually his teachers advise against bringing in treats (due to allergies, etc.) so I thought it would be fun to mix up some Kool-Aid Play Dough for each of his classmates, and package them up as silly monsters.
Kool-Aid Play Dough
M and I used this Kool-Aid Play Dough recipe from Hey Lauren Rene. The kool-Aid makes the play dough smell terrific (adding an extra sensory element) and it also produces rich, vibrant colours!
Ingredients:
M mixed all of the ingredients together with a spoon until it was cool enough to knead together with his hands.
We made 2 batches each of orange, grape, and fruit punch play dough (1 batch yielded 4 balls of play dough).
Kool-Aid Play Dough: Monster Gifts
We wanted to be somewhat creative in how we packaged our kool-aid play dough. Being that M's birthday is in the month of October, I thought it might be fun (and easy) to make each of the play dough balls into goofy monsters.
Materials:
Cling Wrap
Pipe Cleaners
Googly Eyes (I found some cute multicoloured ones at Michael's)
Black Sharpie
Glue Dots (one of my new fav discoveries for crafting!)
I wrapped each ball of Kool-Aid play dough in cling wrap, and tied them closed with a pipe cleaner (I snipped any excess cling wrap off with a scissor). Next, I gave M some googly eyes and showed him how to use the Glue Dots to adhere the eyes where he wanted them.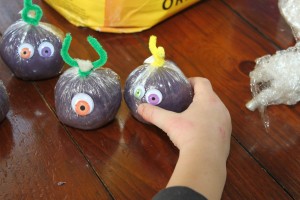 I was going to leave the monsters with just googly eyes, but decided to draw on some mouths with a Sharpie to make them a bit more quirky.
The last thing we did was customize the monster label template (found here), and print them onto cardstock paper. We punched a hole through the top of each tag and slipped  them through one of the pipe cleaner ends.
I think they turned out pretty cute, and it was a fun way to spend part of the afternoon with my oldest bug :).
Click the links for more Halloween activities and/or gift ideas.
Thanks for stopping by!
Share!
Follow!