Last saturday my family and I organized a Halloween party for our kids and their cousins. Everyone pitched in by bringing festive food and activities for the children (and adults) to enjoy. Here's a peek at some of the highlights:
Halloween Food
Halloween Cupcakes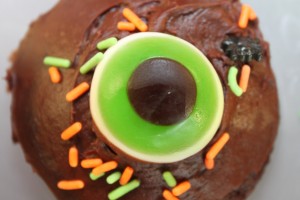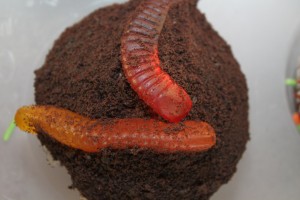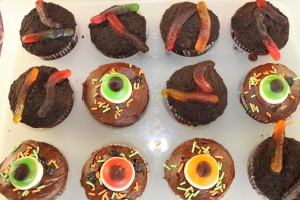 Halloween Activities
Bubbling Potions
We made the classic vinegar and baking soda experiment into a colour mixing lesson as well. I had the kids mix baking soda, water, and one colour of food colouring in one jar, and vinegar and a different colour of food colouring in another jar. Then I had the kids predict what was going to happen when they combined the two mixtures together, and what colour the new mixture would be. When the base (baking soda) and acid (vinegar) solutions are combined, they create a chemical reaction (a frothy, bubbling potion). The kids loved this experiment and wanted to keep creating new, colourful concoctions!
Decorating Pumpkins
Foam Crafts
My sister, Nadine, brought these fun foam Halloween ornaments for the kids to make:
Witch Hats
I bought these paper mache witch hats from Michael's for the kids to decorate with paint, stickers, feathers and pom-poms. If you are feeling extra crafty, you could also make your own witch hats, or turn it into a math lesson by having older kids create their witch hats by measuring the circumference and diameter of the cone and brim.
Felt Board Monsters
Little B and his cousin H, had a great time assembling silly monsters on the felt board.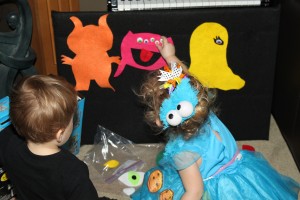 Decorations
Our decorations were not elaborate or super exciting, but they did help set the mood for a festive, kid-friendly, Halloween party!
Spider Webs
Suction Cup Spiders
Ghost Balloons
Lots and Lots of Pumpkins…
Glitter pumpkins
Bling Pumpkins
Silly Pumpkins (the kids painted them using paint dabbers for less mess)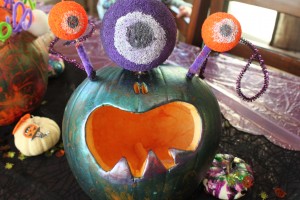 Treat Bags
My sister-in-law, April, made up these awesome treat bags for the kids!
It was a fun, not to mention GORGEOUS, day! Yesterday we were outside in t-shirts, and this morning we woke up to a heavy, white blanket of snow :(. When M peered out the window he exclaimed excitedly, "look mommy! It's Christmas!" Haha! At least someone in our house was happy to see the snow…
Click the link for more Halloween ideas.
Happy Halloween!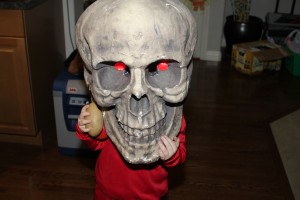 Share!
Follow!