I've been meaning to make a felt board for my bugs for a while now, and finally got around to assembling one the other day. I made our felt board simply by stapling a sheet of black felt to a foam board. In the spirit of Halloween, I thought it would be fun for the boys to be able to create their own silly monsters. This activity is cheap, easy to make, and a lifesaver for when you are in dire need of some quiet time. When I'm making dinner, and tempers are on the brink of boiling over, I pull out the felt board and monster pieces, and my bugs are settled and engaged for at least 20 minutes. I will definitely be making more felt activities to go along with our felt board!
Materials:
felt board (a sheet of felt stapled to a foam board or a sturdy piece of cardboard)
a variety of felt colours
googly eyes (optional)
fabric glue
scissors
I cut some monster body shapes from different colours of felt, and then proceeded to cut out a variety of monster noses, mouths, and eyes. I used googly eyes I found at Michael's and adhered them to the felt eye shapes with fabric glue.
Playing with Felt Monsters:
My bugs really enjoy creating and assembling the silly monsters. I get a kick out of watching little B and his perception of where the facial features should fit, compared to M's. The best thing about this activity is its versatility; the boys can create new monsters each time just by swapping out the pieces.
I put the felt pieces in labeled bags for easy and organized storage.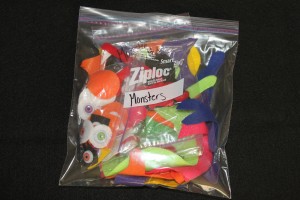 Click on the links to see our felt activity for the book Go Away, Big Green Monster! by Ed Emberley, and other felt activities.
For more Halloween ideas, click here!
Thanks for stopping by!
Share!
Follow!