Our oldest bug recently turned 4, and when I asked M what he wanted to do for his party, he replied with an emphatic 'bouncy house!', so we decided to throw him a carnival themed party. We rented gym space at Cardel Place, complete with a HUGE bouncy house and gym equipment. When we first walked into the gym, M's whole face lit up at the sight of the bouncy house; combine that with having his family and friends there to celebrate with him, and I knew instantly this was going to be a party he'd remember!
Party Props
For M's party I found these fun, free, printable party props from Accent the Party, and used them  to get some silly shots of our guests. I also went into my Halloween bin and found a clown wig, some goofy glasses, feather boas, etc. to add to the photo booth as well.
Face Painting
I set up an area for the kids to do some face painting.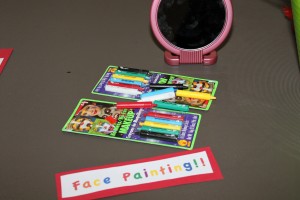 Little B and his cousin B had a great time decorating one another!
Carnival Food
We had lots and lots of yummy carnival food at M's party too:
Popcorn Cupcakes
I knew M would love these cupcakes because they are LOADED with mini marshmallows. I used these great printable, popcorn cupcake wrappers courtesy of Lemon Squeezy.
Invites and Water Bottle Labels
I found these free carnival printables from Printabelle at Catch My Party. I used the invitations and glued them to a popcorn bag for the guests that required a mailed invite, and I used the water bottle labels as well.
Loot Bags
For take-home gifts I stuffed some candy sticks, caramels, salt-water taffy, goofy moustache glasses, a kazoo, and a punching balloon into the popcorn bags.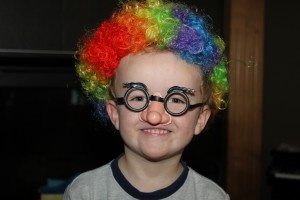 Carnival Fun!
M had a BLAST at his carnival party, and having his family and friends there to celebrate with him made it extra special!
Click the link for more party ideas.
Thanks for stopping by!
Share!
Follow!