When I saw this great DIY bath toy idea from The Brooding Hen, I was really eager to make my boys their own set to use as a wall track for their cars. It's inexpensive, relatively simple to make, and it's easy to grab-and-go as a fun and convenient toy for camping trips.
DIY Tube Wall
Materials:
You may also want to use a flat-head screwdriver, and a bowl of hot water to soak your suction cup ends in so they are more pliable.
Directions: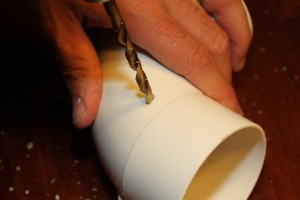 Tube Play!
Once the suction cups are wedged in place, find a flat, vertical surface to construct your tube wall on, such as:
The boys use their tube wall as a track for their cars and as a water-slide for their bath toys, but you can be as creative as you like by constructing a water wall, or by experimenting with different materials such as: marbles, rocks, ice, seeds, rice, pasta, and beans. My bugs have already got a lot of play out of our set, and I predict we will be using it even more once the cold weather hits.
If you are interested in learning how to make a sensory/ water table out of PVC pipe, click here!
Thanks for stopping by!
Share!
Follow!