Little B's 2nd birthday is coming up, and we're planning on having a beach themed party for him as soon as we return from another camping trip. I thought it would be fun to get the boys involved with creating some of the decorations for the party.
Sand Clay
Sand clay is easy to make, and really fun to play with. Just mold it into the desired shape, let it sit for a few days, and it will harden to create long-lasting sandcastles or other creations.
Materials:
2 cups of play sand

1 cup of cornstarch
2 tsp of alum (found in the spice aisle)
1 1/2 cups water
wooden spoon
sandcastle bucket (optional)
seashells (optional)
Directions:
Add the sand, cornstarch, and alum together in a pot and stir until combined.
Next, add the water and mix well.
Put the pot on the stove and stir over medium heat, until a clay-like texture is formed. Once it's ready, remove the sauce pan from the heat, and dump the sand clay into a bowl, or onto a piece of parchment paper, to cool.

Once it is cool enough to handle, you can begin forming your sand clay.

Let your sand clay creations air-dry for a few days (it may take up to a week to dry completely) or you can speed up the process by baking it in the oven on a low setting.
Long-Lasting Sandcastle
M used a sandcastle bucket as a mold to form his sand clay into an easy sandcastle.
After packing the sand in, I helped M flip the bucket upside down to reveal his sandcastle (we had to squeeze around the sides of the bucket to help ease it out).
To finish off his sandcastle, M added some seashells I had purchased from Dollarama.
Then we set it outside to air-dry.
Footprints in the Sand
I wanted to make a personalized centrepiece for B as well, so I made a second batch of sand clay, flattened it onto a baking tray covered with parchment paper, and had B press his feet into the sand clay to make an impression of his sweet, little 2-year-old feet.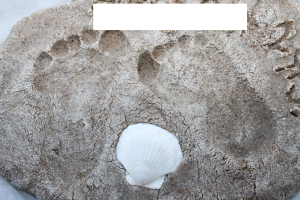 Then I took a stir-stick and printed B's name and age, and pressed in some seashells for a bit of embellishment.
*Sigh* Such sweet little toes…
You can click on the links for more birthday party ideas (I'll be posting more of B's Beach Bash in a week or so), and/or handprint/ footprint crafts.
Thanks for stopping by!
Share!
Follow!