We have been doing A LOT of camping this summer, which has been wonderful! I love watching my boys play and explore all day outside. By dinner time, it's inevitable they will appear covered in dirt and sweat, with their pockets nearly bursting with souvenirs they found along their travels, and huge grins plastered on their gritty faces. Of course, neither of my bugs want to part with the treasures they've collected, and usually end up dumping them on chairs or inside of the trailer *sigh*. The boys have made sticky wall art , rainbow rice sun-catchers, and nature collages using Contact Paper in the past, so I decided to use the same concept to display the items they collect on the side of the trailer to deter them from tracking it inside.
Nature Sticky Wall
All you need is some Contact Paper, scissors, a clean surface, and some eager nature collectors,  and you have the makings of a very simple project that will keep your outdoor explorers busy for most of the day.
First I cut off a piece of Contact Paper from the roll and peeled off the paper backing. Then, with the sticky side facing up,  I folded the contact paper back about  an inch from the top and an inch from the bottom, and adhered the sticky edges to the side of our trailer. M took a wagon with him to help hold all of his nature items (little B loves doing this activity too, but on this particular day he must have been napping).
By the end M had a bunch of items on his nature sticky wall, but for some reason he decided to take most of them off before I could grab my camera to snap a picture… Oh well, at least you can grasp the general idea.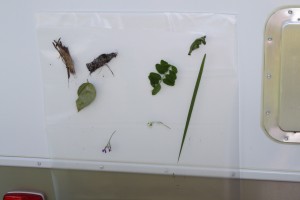 And this is one way I keep my bugs busy while camping 🙂
Click on the links for more camping activities and Contact Paper projects.
Thanks for stopping by!
Share!
Follow!