Father's Day is coming…
I wanted to make up some broquets for my husband and brother-in-laws for Father's Day, so when I came across these Game of Thrones beer steins  I knew they would make the PERFECT vessels! My siblings and their families often come to our house for games night, and one of the board games we enjoy playing is 'A Game of Thrones, the Board Game'. All of us are hooked on the HBO series, and it often comes up in conversation when we're together. I already had all of the treats handy (I bought a few items in bulk from Costco, and managed to make 11 gift baskets from them!) so it was just a matter of printing off some pictures and arranging everything together in the steins.
To make these broquets I used:
Angie's Kettle Corn (individual snack bags)

Gum
Beef Jerky (small bags)
Lollipops
Assorted Nuts (individual snack bags)
wooden skewers
Tape
Newspaper
Printed Images from Google for each House
I stuffed the newspaper into each of the beer steins, then taped the snack items to the skewers and arranged them by sticking the pointy end of the skewers into the newspaper. I Googled images for each of the houses (Lannister, Stark, and Baratheon- I purchased the Targaryen stein for myself ;)) then printed them off and taped them to some of the items in the corresponding beer steins.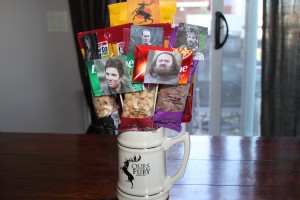 Now the guys will have authentic beer steins to represent their houses when we break out  A Game of Thrones on game night!
Click the link to see more gift ideas.
Hope you have a happy Father's Day!
Thanks for stopping by!
Share!
Follow!