With all of the crazy flooding that has been happening in southern Alberta, my home city of Calgary included, I almost forgot that Canada Day long weekend is coming up. We had planned on celebrating Canada Day camping and biking in serene Kananaskis Country, but sadly they too have been ravaged by floods and mudslides :(. This has truly been a devastating past few days, so to help get my mind off of the grave current events, I decided to do a Canada Day craft with my boys. When I stumbled across this blog post on Pinterest, I was inspired to create our own Canada Day, keepsake T-shirts.
Materials:
Plain white t-shirt (Old Navy and H&M always have a variety of sizes on hand)

Red fabric paint (we used Tulip Soft Fabric Paint- Crimson Red, purchased from Michael's)
Jewel Apple Red Tulip Fashion Glitter (machine washable, purchased from Michael's)
Tulip Fabric Markers (optional, purchased from Michael's)
Foam brush
Painter's tape
Cardboard
DIY Canada Day Shirts
We started by slipping a piece of cardboard between the two layers of the shirts, to prevent the paint from bleeding through.  Then, using a foam brush, I painted my bugs' hands with red fabric paint and pressed their hands onto the centre of the white t-shirts to create a lovely keepsake print. My sister and her family came over later and we made some Canada Day t-shirts for her boys as well!
We sprinkled the glitter on top of the wet handprint, making sure to press down on the glitter with our foam brush so it would adhere well to the fabric paint. It is important to take the time to pack the glitter into the paint , in order to prevent an excess amount of loose glitter falling off later. You can choose to avoid adding glitter altogether, but the bling definitely made our t-shirts more dazzling and impressive!
Next, I got out my painter's tape and taped off a rectangle on each side of the handprint. We coloured in each rectangle with more red fabric paint, again making sure to push the glitter into the wet paint with the foam brush.
We let the paint and glitter set for a few minutes, before peeling off the painter's tape.
Cousin A wrote his name on his shirt using the red fabric marker, and I wrote 'Made in Canada' on B's t-shirt.
The boys are really proud to show off their Canada Day shirts, especially since they helped make them!
These shirts were so easy to make, I even brought the supplies along for M and B's other cousins to make their own while we were out camping for Canada Day.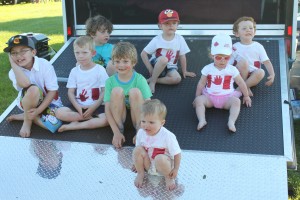 I hope all of you have a happy Canada Day and a safe and SUNNY long weekend!
Thanks for stopping by!
Share!
Follow!