Originally we were booked to go out camping in beautiful Kananaskis, beginning today and ending just after Canada Day, but due to flooding and mudslides, we've had a change of plans. Luckily, we have farmland where we can still take the kids for a fun camping trip, otherwise the boys would have been SO disappointed! I had planned on making these cute DIY night lights as a camping activity for Canada Day, but realized we should probably make one ahead of time so I can share it on my blog.
Materials:
glass jar

white (confetti flecked) tissue paper 

red construction paper
maple leaf punch out, maple leaf confetti, or maple leaf stickers
white glue mixed with water
sponge brush
flameless tea-light
parchment paper or wax paper
Canada Day Craft (DIY Night Light)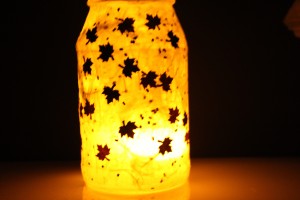 I think these will look very patriotic by our campfire this long weekend, and the boys will enjoy having them by their beds as night lights :).
Click the link for more Canada Day and camping ideas.
Thanks for stopping by, and have a wonderful Canada Day!
Share!
Follow!