When my sister first told me she had invited around twenty kids to A's 6th B-day party, I thought for sure she had lost her mind! Twenty kids? Not to mention it was a drop-off-stay-if-you-like party! How was she possibly going to entertain twenty kids for two hours? Then I remembered she's a teacher; She has to keep more kids than that engaged in curriculum-based instruction, cooped up in a classroom most of the day, for approximately thirty hours a week… she was going to be fine.
Food and Decorations
Most of the party was held in the backyard, with the exception of the food and gift opening. There was a variety of yummy food you would expect at a great BBQ style birthday party: chips, crunchy veggies, loads of refreshing fruit, potato salad, hotdogs, and lots of cold beverages buried in a cooler of ice on the deck.
And we definitely can't forget about those super cute Angry Birds cupcakes!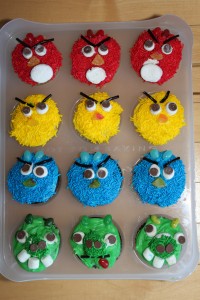 Angry Birds Party Games
We arrived early to see if we could help set up and prepare for the party, but most of it was already done. When I stepped into the backyard I was seriously impressed! There was no way any of A's guests were going to be disappointed or bored at this party!
Bird Launch!
The kids (and adults) loved this real-life simulation of the famous App.
Water-balloon sling-shot + empty cardboard boxes+ bouncy balls with Angry Birds pigs and bird stickers = lots of fun!
Bird Toss
To play 'Bird Toss' the kids had to toss the bean bags onto the plates to earn points. The further the plate, the higher the points.
Bird Bounce
Bird Shoot
For this game, the kids were armed with a Koosh gun and Koosh balls with Angry Birds stickers. They had to shoot the bird balls through the target holes to earn points.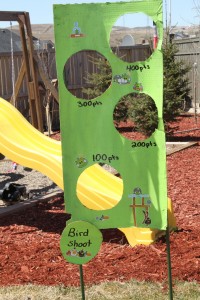 Bowling
My sister used sand pails with Angry Birds pig stickers on them, and bouncy balls with the birds stickers.
Pin the Feathers on the Angry Bird
Pig Piñata
Our talented sister-in-law made this cool piñata for A's Angry Birds party (my brother 'says' he helped too 😉 ). It was a real HIT with the kids! Anything that rains candy is bound to be a SMASHING success! (Alright, I'll stop with the corny puns now…)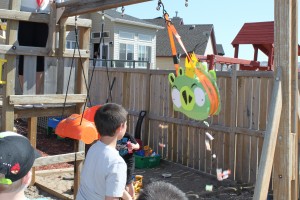 A's party was a lot of fun and my sis couldn't have picked a more gorgeous day for us to play in the sun! Happy 6th birthday A! xxox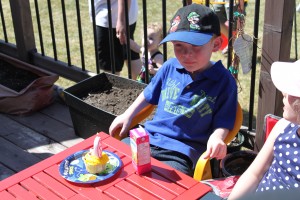 Click here for more birthday party themes and ideas 🙂
Thanks for stopping in!
Share!
Follow!