These DIY painted mugs are the perfect addition to the "If You Give a Mom a Muffin" theme we are creating for Mother's Day this year. They were surprisingly simple to make, and each one is uniquely personalized for the special moms in our life. I made two types of painted mugs for each mom, plus an extra ladybug fingerprint mug for my bugs to give to their Nana.
DIY Personalized Mugs
I wanted to make something that would highlight the admirable qualities each of these incredible moms encompass. I figured, what better way to start the day than to see a daily reminder of how FABULOUS they are while sipping their morning coffee or tea?
Materials:
How To:
First, I came up with a some adjectives I thought best described each mom. By far, the most difficult part of this project was narrowing the long list of glowing attributes to a final few so they would fit on the mug!
Next, I went into Microsoft Word and picked out a variety of fonts to use. I typed out each of the mom's names and adjectives, in different chosen fonts, and then attempted to replicate them the  best I could by writing them, freehand, onto the mugs using the paint pens. When I made a mistake, I just simply wiped the area clean with fingernail polish remover and started again.
To set the paint, I baked the mugs for 30 minutes at 275°F in a non-preheated oven on a baking sheet. I've seen tutorials where people have used Sharpies or other permanent markers to create a similar effect. I recommend washing the mugs by hand, as the paint may wear off over time in the dishwasher.
Lipstick Lips Mugs
We usually host a Mother's Day brunch at out house, so I thought it would be fun for all the moms to have matching lipstick lips mugs to drink from. Again, this was a really simple project that hardly took any time to make.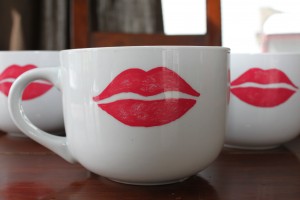 Materials:
white mugs from the dollar store

 (I bought ours from Dollaramma for $1.25 each)
a red and back porcelain paint pen
a printout of this lipstick lips template
scissors
tape
 How To:
I cut around one of the lips from the lipstick lips template and then cut out the red part of the template by first folding the lips in half and making a little slit to get me started. Then I positioned the lips stencil on the mug, and taped it in place.
Next, I outlined the lips, using the red paint pen, then proceeded to colour in the remainder of the lips.
Before the paint had a chance to dry, I quickly blotted the lips with a piece of scrap paper to give a more smudged lipstick appearance. Then I carefully removed the paper template and made some minor touch-ups to the outline of the lips.
Finally, I wrote 'Mother's Day' and the year 2013 onto the back of each mug before popping them into the oven on a baking sheet for 30 minutes at 275°F. *Make sure to handle the mugs with an oven mitt once they are done baking!!*
Ladybug Thumbprint Mugs
I absolutely LOVE how these ladybug thumbprint mugs turned out! After making one for the boys' Nana, I knew I had to have one for myself as well.
Materials:
white mugs from the dollar store (I bought ours from Dollaramma for $1.25 each)

red gloss enamel paint (purchased from Michael's)

a foam brush
a black porcelain paint pen
How To:
I started this project by first writing "We Love You Nana!", with the black paint pen, onto Nana's mug, and "My Bugs" onto the mug I was making for myself. 

Then I painted my boys' thumbs, using the sponge brush and red enamel paint, and started stamping their thumbprints all over the mugs. As you can see, the thumbprints were hardly perfect (getting a solid print from a squirmy one-year-old is challenging!) but it's all part of the authenticity!
Once the thumbprints were dry, I took the black paint pen and drew on a head, antennae, legs, and spots to create the ladybugs.
 As with the other mugs, I placed them on a baking sheet and popped them into a non-preheated oven for 30 minutes at 275°F.
As I mentioned above, these mugs are part of a 'If You Give a Mom a Muffin" theme for Mother's Day. I will post a link to the finished project once they're all put together.
For more DIY Mother's Day gift ideas, click here.
Thanks for visiting!
Share!
Follow!