It hasn't been looking, or feeling, a lot like spring here in Calgary; the ground is covered in snow and the wind still has that crisp, frosty bite to it. I, like everyone else I know around here, am hoping winter releases it's icy grip soon, especially since Easter is just around the corner and an indoor egg-hunt just isn't the same as being outside!
Even though it may not look like spring outside, there's no reason why we can't create some colourful, spring cheer of our own, and what better way to do that than by making tie-dye, stained glass Easter eggs for our window?
Materials:
coffee filters

felt markers or paint dabbers (I found the paint dabbers worked the best)
spray bottle with water
scissors
This craft was really simple, and both of my boys loved it!
I gave each of them a coffee filter and some paint dabbers to create a colourful design.
M also used some felt markers to create a design, but I think the paint dabbers provided a more vivid effect.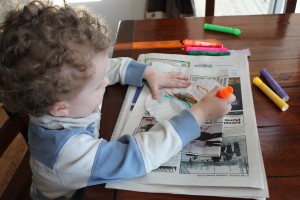 When the boys finished their designs, I gave M a spray bottle to wet them down. The colours bled and swirled into one another, creating a cool tie-dye effect.
After they were dry, I cut them into egg shapes and taped them to the window, so the boys would be able to enjoy them throughout the day.
Hopefully the boys' bright, tie-dye Easter eggs will entice mother nature to finally move on from our frigid, lingering winter, and fully embrace the warm, fresh season of spring!
Share!
Follow!