We decided to spread the love today by making and mailing some Valentines to some very special people. Before getting started I read M a couple of the Valentine's Day books he had picked out at the library, to help him understand what we were doing, and why.
In Happy Valentine's Day, Mouse! Mouse makes Valentines for each one of his friends and explains why he loves them, and in Mouse's First Valentine Mouse follows his sister around as she collects materials to create something special: a Valentine for Mouse.
M had a lot of fun making Valentines for his cousins and grandparents. I thought it would be especially exciting for his cousins if they were to receive their own special Valentine in the mail. Who doesn't love receiving cards and letters from loved ones in the mail?! I'm pretty sure these Valentine's will also bring a smile to his grandparents as well!
For the grandparent's cards I folded a piece of cardstock paper in half and traced M's handprint, making sure the thumb and index finger touched the crease of the fold.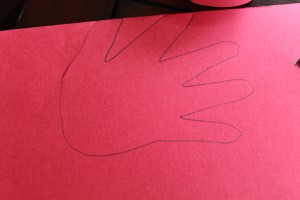 I cut out M's handprint and opened it up to reveal…
a heart!
I also cut out a few heart shaped cards for M to give to his cousins. Once all of the cards were ready, M got to work decorating them with a variety of fun, tactile materials: tissue paper, stickers, pompoms, crayons, Valentine's decorative tape, and feathers.
He had so much fun creating and personalizing Valentines for each of his cousins and his grandparents.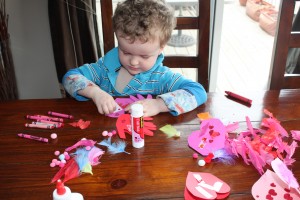 Each one is as unique and special as the people they're for 🙂
When all of the Valentine's were complete, we stuffed each one into it's own envelope and addressed them. We also added some conversation heart candies and sealed each envelope closed with some Valentine decorative tape.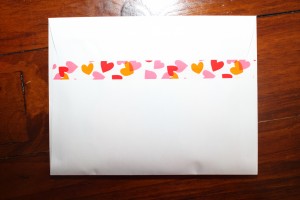 I hope these Valentines let their recipients know how much they are thought of and loved 🙂
Happy Valentine's Day!
Share!
Follow!