I'm going to be honest. I used to think Valentine's Day was a really lame, commercialized holiday, contrived for the sole purpose of buying overpriced flowers and making reservations at expensive and pretentious restaurants. Although I know consumerism is still the main reason why Valentine's Day exists, I'm also aware that western society is basically built on buying frivolous things every day in order to make us 'happy' in a blasé way; so not liking Valentine's Day because it's a commercialized holiday isn't a very solid excuse in my opinion. We live in an upside down world that seems to glorify violence and greed over love and kindness, which is why I have no problem participating in a day that celebrates what is truly important in life: family, love, friendship and kindness. I think we could ALL use some extra, over-the-top mushiness once in a while, don't you? With this in mind,  I decided to do something special for my sweet, little valentines by injecting some excitement into our habitual morning routine.
When my bugs went to bed last night, I set to work planning their Valentine's Day morning. First, I found some left over pink and red party balloons, blew them up, tied some ribbon around them, and hung them from the boys' door frames.
This morning, they were greeted by a cheery, burst of colour in their doorway! They were super excited, and kept running back and forth through the balloons :). Look at these beautiful, ecstatic faces!!! SO worth it!
Next, I decorated the table downstairs for a V-Day breakfast.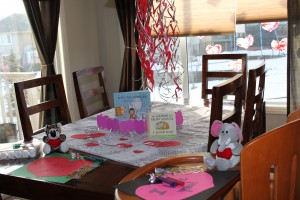 I made some heart garland and strung it from the kitchen light fixture, along with some silver curling ribbon.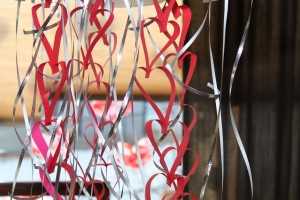 I found a lace tablecloth and draped it on the table, then grabbed 2 classic books from the boys' bookshelves, Love You Forever by Robert Munsch, and Guess How Much I Love You by Sam McBratney, to read aloud to M and B after breakfast. Just once I wish I could make it all the way through reading Love You Forever without getting all verklempt! Is it even possible?
 I also added some cut out hearts with messages stating what I love most about my bugs.
To keep my bugs busy while I prepared breakfast, I had them decorate some placemats (made out of scrapbook paper) using stickers, crayons, and paint dabbers. I had M go over the words 'I love you' with the paint dabbers for a bit of added literacy practice.
While they were occupied, I made the boys raspberry-banana smoothies…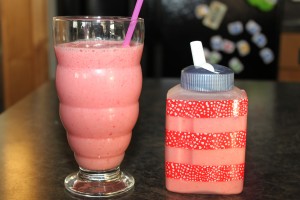 and waffles (I used a cookie cutter to cut out a heart shape in the centre) with whipped cream, raspberry sauce, and fresh strawberries.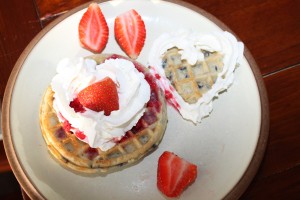 The smoothies were a hit, but the boys weren't huge fans of the texture of their waffles. I guess the whipped cream and drizzled raspberry sauce made them too soggy :/ so I replaced them with boring, dry waffles with a side of strawberries instead.
While waiting for little B to wake up from his morning nap, M and I played a little addition and subtraction game using a heart number line, conversation heart candies and an eight-sided die. This game was just to introduce M to the concepts of adding and subtracting numbers (ie. adding=more and subtraction=less).
M would drop the 8-sided die into the dice tower (the brown thing) and place the number of candies onto the number line according to the number rolled. Then he would add onto it by rolling another number.
He REALLY enjoyed the concept of subtraction, because he got to eat the amount of candies that needed to be taken away 🙂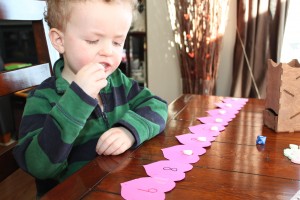 We also played a quick game of candy towers, by seeing how many hearts we could stack before our candy tower fell over:
M's highest score was 7.
 I think I finally hear B, which means it's time to take my 2 little valentines out on a date to the mall to play and eat frozen yogurt!
Share!
Follow!