Today is New Year's Eve! Time to say good-bye to 2012 and prepare for a fresh, shiny start to 2013! We are having our family over for a New Year's Eve dinner, as well as for some fun festivities later on to ring in the New Year. We are going to have 6 kids, ranging in ages from 1-7, so I thought it might be fun to have an early New Year's celebration just for them before they head off to bed.
Everyone knows you MUST have a New Year's toast in order to start the year off right, which means you'll also need some blinged out glasses to toast with!
I made a trip to Dollarama and purchased some wine glasses for the adults (I would have preferred champagne flutes, but they didn't have any) for $1.50 each, some plastic wine cups for the kids, a variety of self-adhesive rhinestones and pearls, as well as numbers and foam letters, and some glitter glue.
I plan on having our big and little guests decorate their glasses/cups when they arrive so they have a special glass to toast with at the end of the night, and something they can take home with them as a keepsake. I'm going to ask each of them to think of a wish they have for 2013 and to write that on their glass as well. I made one up for me and B ahead of time (B is still a bit too little to be trusted with glitter glue and rhinestones!)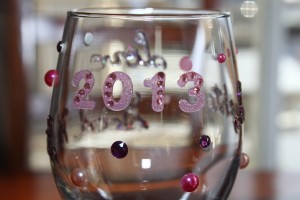 The kids are going to toast to 2013 with either apple juice or raspberry gingerale and frozen strawberries.
Balloon Drop!
For our little guests, we are going to have an early New Year's count-down, complete with balloon drop!
My hubby fastened a string of tissue paper across the top of our fireplace. We slanted a piece of cardboard against the back wall to act as a ramp so no balloons get stuck on the mantel. We taped a couple of ribbons to the top of the tissue paper so we can pull it to release the balloons (make sure to make the ribbons short enough so little hands can't get a hold of it before the big moment!).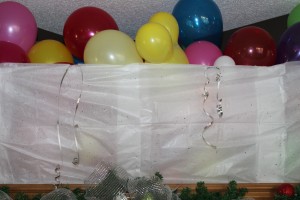 I can't wait to see the excitement on the kids' faces!!
Happy New Year everyone! May 2013 bring you love, cheer and peace 🙂
Share!
Follow!