Christmas is just a couple days away, which means our time with Bob, our Elf on the Shelf, is drawing to a close. Here are some of the antics Bob has been up to this past week!
 1st Presents Under the Tree
The Polar Express
Trapped in a Present Decoration
Brushing his Teeth with M's Toothbrush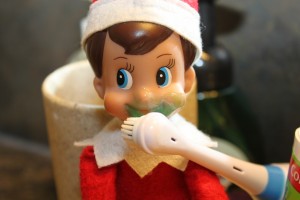 Building a Marble Run
Roasting Marshmallows Over an iPad Fire
Relaying a Message from the Grinch!
My last Elf on the Shelf post for 2012 will be Bob's good-bye letter to the boys.
Merry Christmas Everyone! Wishing all of you good health, love, and happiness for 2013!
Share!
Follow!