This morning, M came downstairs to find Bob, our Elf on the Shelf, reading Jan Brett's Gingerbread Baby to some of his toys.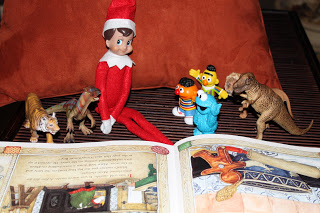 Later on I read the story to M and we talked about all of the different people and animals the Gingerbread Baby had to run away from. Then, while M was up in his room, I stuck some Gingerbread  Babies around the house for him to 'catch'.
I had previously bought some little man cut-outs from Michael's, and coloured them with a brown Mr.Sketch marker, which also just happens to smell like cinnamon! Then I added eyes and a mouth to make them look like little gingerbread men. M has been working on letter sounds and sounding out small words, so I took some small words from the book (all of the animals that chased the Gingerbread Baby) and wrote each animal's name onto the little gingerbread men. Then I glued a corresponding picture onto each one as well.

I also made up a small grid with the names of the animals, so M could mark the ones he found with a paint dabber.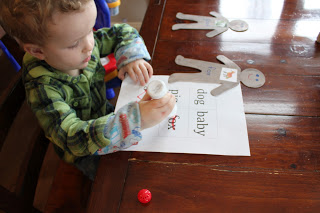 He and little B had a great time running around the house trying to catch all of the Gingerbread Babies. M was able to find the words quickly on the grid by recognizing the beginning letter sounds. I added the word 'baby' to the grid as well, just to see if I could trick him by having one word left over.
I also found a few different versions of The Gingerbread Manon the iPad, which the boys and I watched/read together:
The one below is for the iPhone, but it works on the iPad as well (just make sure to double the picture size when viewing it on the iPad). This one was our favourite! It is narrated by a little girl and, when you click on some of the pictures, they make funny sounds/actions, which the boys loved!
And that's how I kept my bugs busy today!
Share!
Follow!