It's October and I have pumpkins on my mind! When I came across this recipe for Pumpkin Pie Play Dough, I knew I had to make it for M.  It only made sense to combine two things he really enjoys: pretend cooking/baking and playing with play dough.
Ingredients:
2 cups of water
orange food colouring (I used  red and yellow)
2 TBSP vegetable oil
4 tsp cream of tartar
1 cup of salt
2 cups of flour
3 tsp pumpkin pie spice (I didn't have any on hand so I used a combo of ground cinnamon, ginger and nutmeg)
Combine all of the ingredients together in a pan on medium heat, and mix until it has the consistency of dough. Place the dough on the counter, knead it into a ball, and store it in an air-tight container.

I gave M the Pumpkin Pie Play Dough, a muffin tin, some Hallowe'en cookie cutters, a rolling pin and a disposable pie tin to experiment with.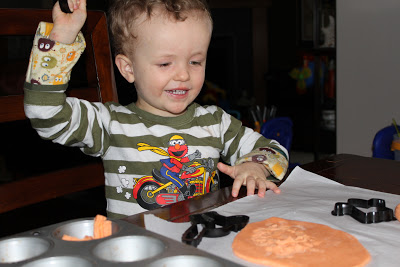 You could also use this dough as favours for a Hallowe'en party by wrapping it up like a pumpkin (I used saran wrap and a green pipecleaner).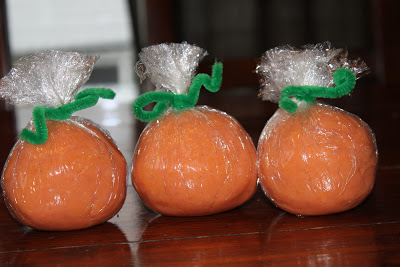 And if you're feeling extra crafty (which I wasn't) you could draw a cute jack-o-lantern face on them with a black marker to make them even more festive.
Share!
Follow!