I was secretly super pumped when M said he wanted to have a dinosaur party for his third birthday. I knew this was going to be a fun party to plan with no shortage of cool ideas to be found.
Dino Dig Cupcake Cake
One of the first places I looked was on Pinterest, where I found this fabulous dinosaur dig site cake. I deviated slightly from the original design in that I decided to make cupcakes, rather than just one large cake, and I put in some plastic dinosaur fossils instead of using the sugar cookie bones. I also substituted Oreo cookie crumbs for the chocolate graham cracker crumbs, and I broke up Simple Pleasure chocolate cookies for the perimeter of the dig site.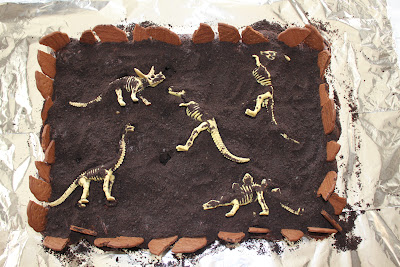 I was really happy with the end result!
DIY Dinosaur Excavation Kit
With the cake planned out, I could now focus on some fun activities for the party, and what's a Dinosaur Party without a Dino Dig? We don't have a sandbox, and I didn't particularly want to fill M's pool full of sand, so I started to look online for individual DIY Dino Dig Kits. I came across a great blog called Mallard Cove Mommy where I drew my inspiration for my own DIY Dino Kits. I ended up changing the contents of the Dig Kit to fit the needs of my kids. I needed to come up with something that was challenging enough for a 7 year old, yet not too difficult for three year olds to do with a bit of help. After a bit of tinkering, I finally came up with this Dino Excavation Kit that fit my criteria.
The kids had a great time pretending to be paleontologists.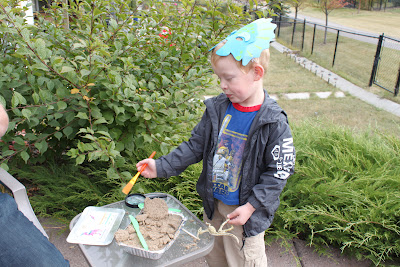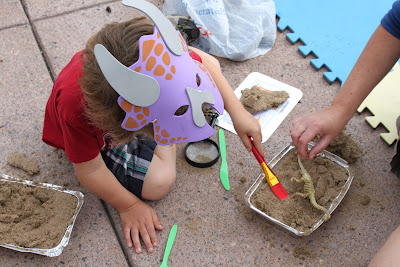 Dinosaur Eggs
I found lots of recipes on how to make Dinosaur Eggs, and they all called for these 5 ingredients:
1 cup of flour
1 cup of used, dried coffee grounds
1/2 cup of salt
1/4 cup of sand
3/4 cup of water
I quadrupled the recipe to make 16 eggs (2 for each of our guests).The first thing I did was make a trip to Starbucks to get some used coffee grounds. I ended up getting a lot more than I actually needed (the rest I used in our garden). I dried the grounds over night on some cookie sheets.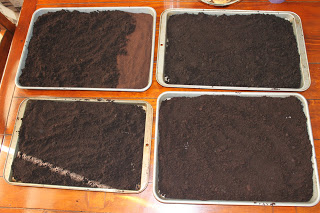 The next day, I made up the dough by mixing the dry ingredients together and gradually adding in the water while kneading the dough with my hands (it should have the consistency of bread dough).I purchased some small plastic dinosaurs from The Dollar Store to put inside of my dino eggs.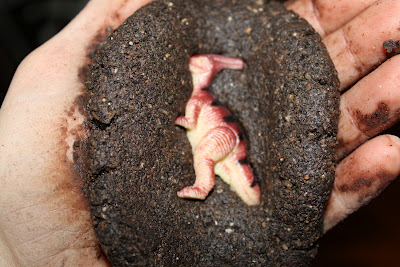 I flattened the coffee dough, placed the dino in the centre, and folded the dough around it.

Then I baked them in the oven at 170 for about 45 min. When they are dry, they look like rocks, but the  kids are still able to break them open by themselves.

I hid the dinosaur eggs and we went on an egg hunt before cracking them open.

The kids had a great time smashing their dino eggs open on the concrete!
They aren't very messy either. The outsides are hard, but the insides are still pretty moist, making for an easy clean-up.
Hatch the Dinosaur Egg Game
This was a simple, fun and super silly game that the kids loved! All I did was put mini plastic dinos inside of some balloons, and blew them up. The object of the game is for the kids to 'hatch' their dino eggs by siting on the balloons and popping them.
It was pretty hilarious to watch!
Dino Inspired Menu
And, of course, a party just isn't a party without your family to share it with!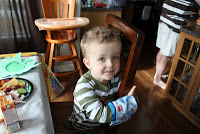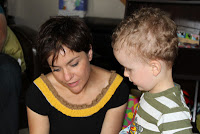 Share!
Follow!