Nothing brightens up a dreary day like Rainbow Rice! It's really simple to make and it can be used in a plethora of ways.  Let's start with how to make it.
All you need is:
white rice
vinegar (you can also use rubbing alcohol)
food colouring
Add 1/2 a tsp of vinegar and few drops of food colouring to 1 cup of white rice in a bag. Make sure to shake the bag really well in order to colour each grain (I mixed ours in a plastic bag, but you could also use a Tupperware container). Spread the rainbow rice onto a baking sheet to dry and in a few hours your bugs can get ready to explore!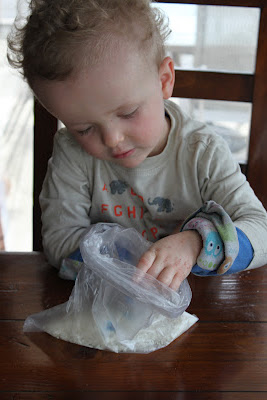 Sensory Table
Running your fingers through a bowl of Rainbow Rice is entertaining and pretty therapeutic. I put M's Rainbow Rice in a shallow tub with some measuring cups, spoons and a few of his favourite animals. He had a lot of fun burying and uncovering his animals, while scooping, sifting and digging in the rice.

I-Spy Jar
Another easy activity is to make an I-Spy Jar. I put some of M's small animals into a glass jar, added some rainbow rice, then twisted the lid back on and gave it a few good shakes. Then I gave the jar  to M to see if he could find all of his animals.
R is for Rainbow Rice!
M and I have slowly been working on creating a tactile alphabet wall for his room, and it seemed only fitting to use rainbow rice for the letter R. I didn't want to have little rice grains falling onto M's floor all the time, so I decided to use Contact Paper to keep it contained and yet still keep the bumpy texture.I took a piece of Contact Paper and wrote the letter R on it in white glue so M would know where to put the rice.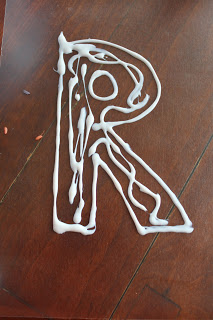 Then he started scooping the rainbow rice onto the Contact Paper.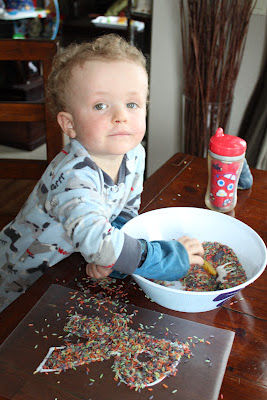 I helped M brush off the excess rice and then added the 2nd sheet of Contact Paper on top to seal it in. I cut around the letter R, and then glued it onto a piece of card stock to be mounted on M's wall.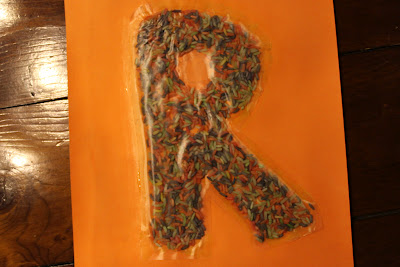 Rainbow Rice Mosaics
Another simple craft idea is to make Rainbow Rice Mosaics. All you need is a selection of vibrant coloured rice, Contact Paper, and a little bit of creativity.
Here are M's cousins making their mosaic masterpieces: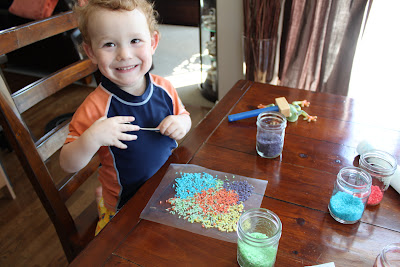 Just put the rice on the sticky side of the Contact Paper in a creative pattern or picture, and then place the second sheet of Contact Paper on top to seal it in. Lastly, cut around the finished design and place it in a window for you and people passing by to marvel at. The sun shining through illuminates the rice mosaic like a Lite-Brite (do they still make those?)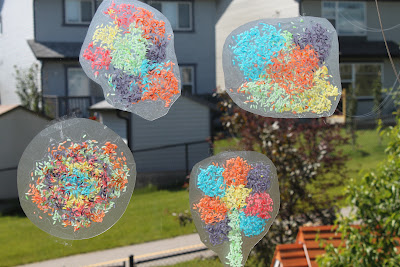 Share!
Follow!