I was inspired to have a Barnyard theme for B's 1st birthday after my husband and I purchased the wooden Fold & Go Barn from Melissa and Doug as B's birthday present.
I wasn't sure what I was going to do for his cake, so I was thrilled when I came across these adorable farm animal cupcakes on the Betty Crocker website. There is even an instructional video to show you step-by-step how to make them!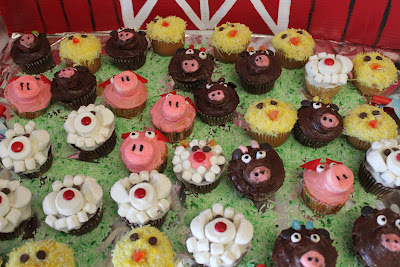 Because my husband grew up on a cattle farm, I knew I had to include some steers in addition to the pigs, sheep and chicks. I opted not to make the accompanying barn cake, and painted a barn backdrop instead. I made some changes compared to the video, but the idea is essentially the same.
We had B's party at the Community Centre, which also happens to have a great play area with a splash park. As the guests arrived they were able to eat and visit while the little ones played in the enclosed park.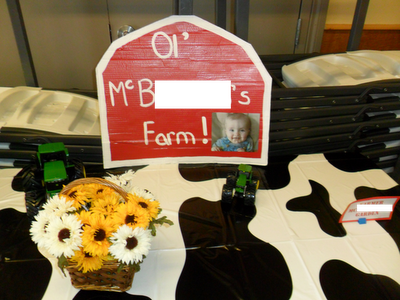 For food we had make-your-own-sandwiches, chicken feed (popcorn twists), straw (pretzel sticks), haystacks (Haystacks chips), chips with mango salsa, tractor tires (Wagon Wheels), fruit from 'Farmer B's Berry Patch', and vegetables from 'Ol' McB's Garden'.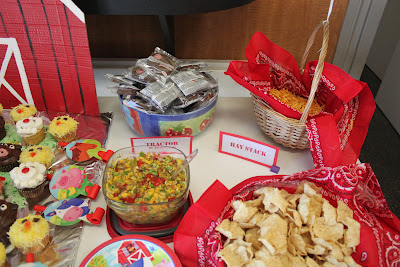 For party favours we gave each guest a pig-snout, some farm animal tattoos and stickers, and bubbles.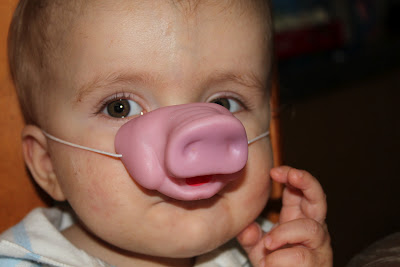 It was a pretty simple party to throw together, not to mention a lot of fun! Most importantly, I think the birthday boy had a GREAT time, which is really all that matters 🙂
Share!
Follow!