I'd been looking into purchasing a water-table for M, but I really didn't want to buy a cumbersome, plastic play table that's difficult to store and would eventually end up in the landfill when M and B have outgrown it; so instead I convinced my awesome husband to make one out of PVC pipe and a couple of clear plastic tubs. I know what you're thinking, 'that's still plastic!' True, but you can always reuse plastic tubs for storage, and when you put it away for the winter, it's easy to dismantle and it hardly takes up any space. It's also a super inexpensive way to have sensory tables in your classroom for your students to experiment with different textures and measurements.
Materials:
 Clear plastic tubs with the same dimensions (I wanted a shallow tub for dry materials such as rice, beans, sand, beads, etc. and a deeper tub for water activities) We used Sterilite containers (56 Qt./53 L and 28 Qt./27 L). You want to choose storage containers that have a uniform lip all the way around in order to distribute the weight proportionally onto the PVC frame to avoid buckling. We bought storage containers from Rona, but you can also find them at Walmart, and on Amazon.com (56 Qt Container and 28 Qt. Container).
PVC pipe
8 three-way connectors (we found ours at an online store called Formufit but you can also find them at Lee Valley Tools)
A saw for cutting the pipe
A measuring tape
Directions: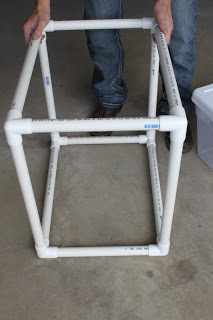 M's already used his sensory table dozens of times as a water-table and for experimenting with rice, beans, Moon Sand, and ice. It's great for teaching and learning about different measurements and textures, and for keeping messy activities contained.
AND, if you haven't tried Moon Sand yet, you really should! We bought ours from Toys r us. Under water it's a clay-like substance that you can mold, but as soon as it is exposed to the air it becomes sand again! It's very cool!
Share!
Follow!