I wanted to make something sweet for the wonderful dads/Granddads in our life for Father's Day, so when I found this recipe for popcorn cake, I knew I had to make it, with a few twists of my own of course. The very idea of buttery popcorn, marshmallows, chocolate, and gummies molded into individual pops is enough to make my head explode (in a good way), and I'm pretty positive the dads we're gifting these to will share my love for these sweet, salty, gooey treats! I had to make these when the boys were down for their naps, because otherwise M would just keep shovelling the candy into his mouth…. he has an even bigger sweet tooth than me! I made sure to pop some extra popcorn for him as a healthy snack when he woke up.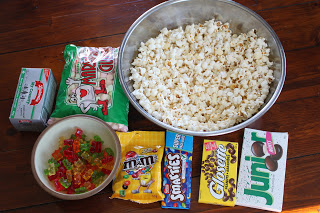 I started by popping a big bowl of popcorn and mixing in a variety of different candy I know the dads will enjoy. It already looks delicious, but there's more…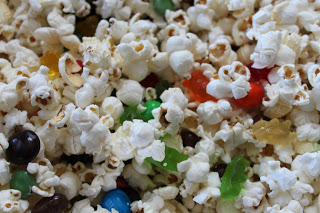 Melt one stick of butter (1/2 cup) in a large saucepan over medium heat. Add a 16oz bag of mini marshmallows and stir until it's smooth. I used the colourful, flavoured ones, you know, just in case it wasn't going to be sweet enough!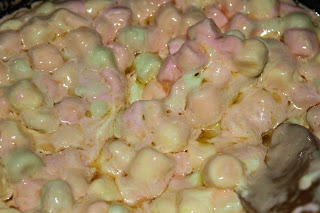 Wait a couple of minutes before adding your melted marshmallows to your popcorn mixture to help reduce melting all of that delicious candy! Remember to butter up your hands, or whatever your mixing tools may be, before attempting to combine the marshmallows and popcorn candy combo, otherwise you will be in a VERY sticky situation.
..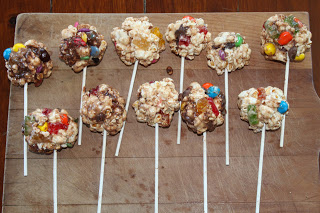 I formed the popcorn into balls around a lollypop stick and waited about an hour for them to set. Then I wrapped them in a treat bag with a blue ribbon.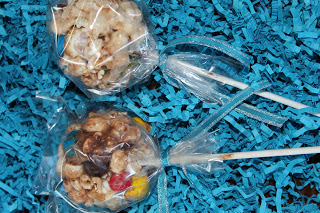 I put some of the pops in paper bags with a tag that reads 'For a Sweet Pop!' (I added blue shredded paper to the bottom of each bag to help elevate the pops).
I also tied a few of the popcorn pops together with a blue ribbon to create a pop bouquet:
Yum! Happy Father's Day!
Share!
Follow!